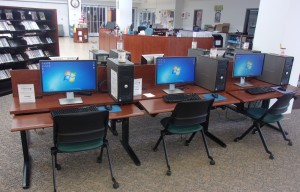 The Otterbein Public Library has 12 computer workstations available for patron use, all of which have access to the internet.
Our patron computers are equipped with Windows 7 or Windows 10, and feature Microsoft Office 2013 and/or OpenOffice for productivity.
Five Apple iPads are also available to use within the Library.
Patrons can also print, fax, make photocopies, and use our free Wi-Fi at the library.
Printing costs are as follows:
Copies and Print:   Black and white $0.10 per page, Color $0.25 per page
Fax: $1 to send, 0.10 per page to receive
Our WiFi network is: OtterbeinPublicLibrary
Ask at our front desk for the password.
We are always working to improve our patrons' experiences.  If you have suggestions, feel free to contact us, and let us know what new technologies you'd like to see in the library!