Family Pinterest Night: December 17, 2020
2020 Christmas
November Pinterest Night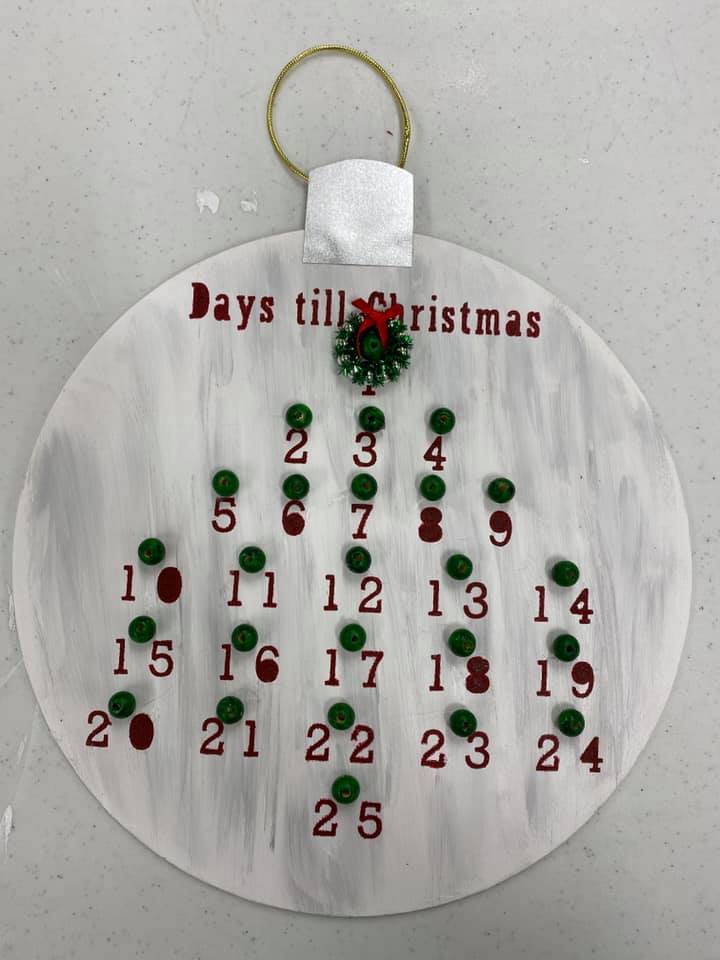 2020 Trick or Treat
2020 Prophetstown State Park Trail of Scarecrows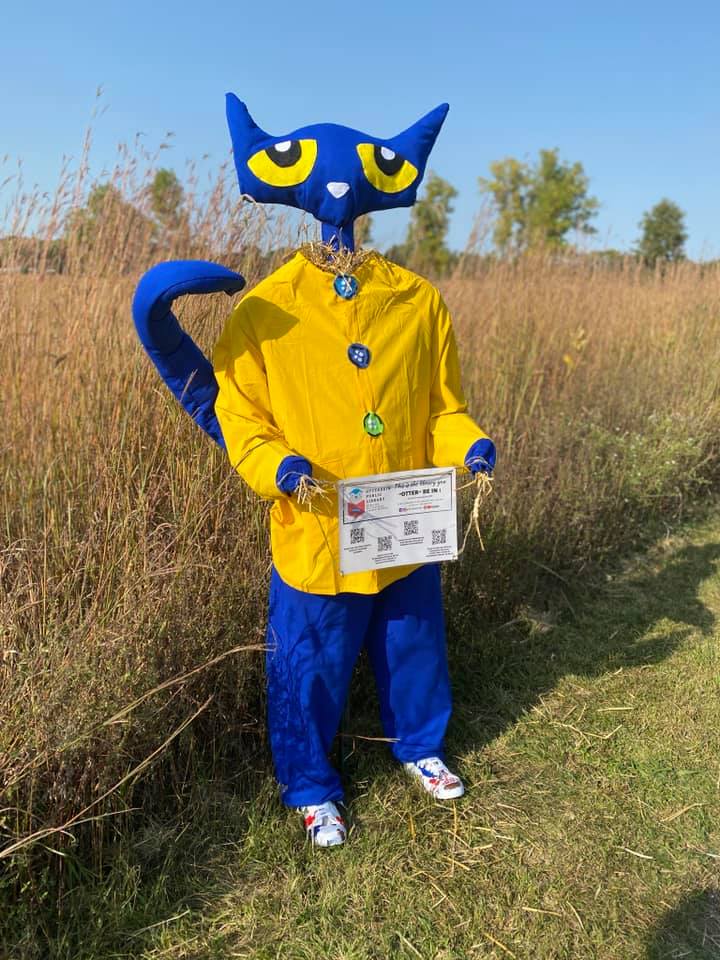 October Pinterest Night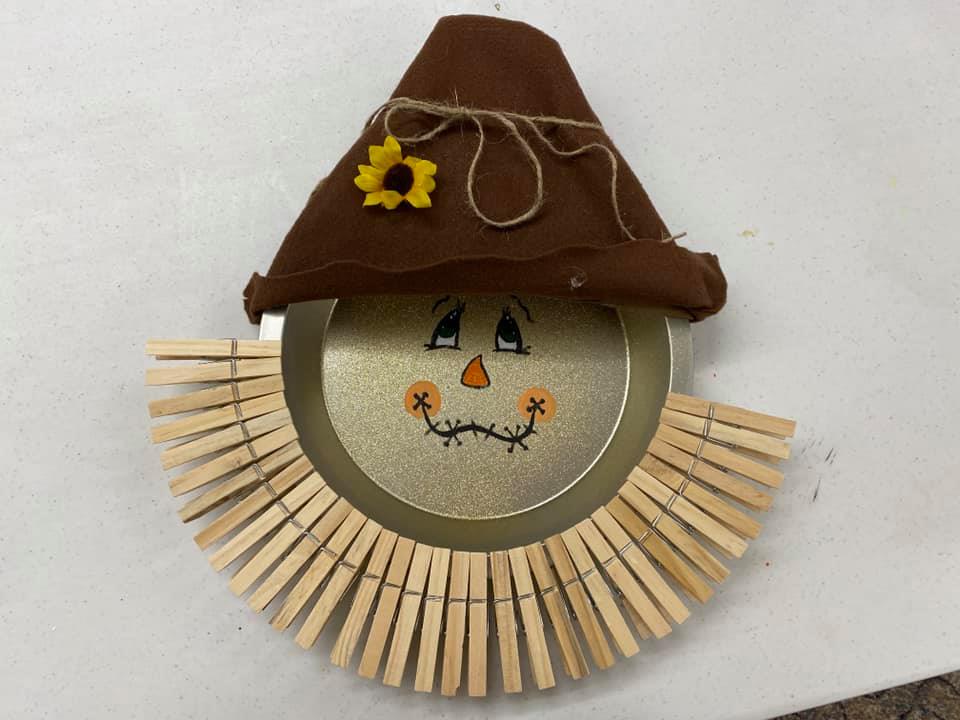 August Pinterest Night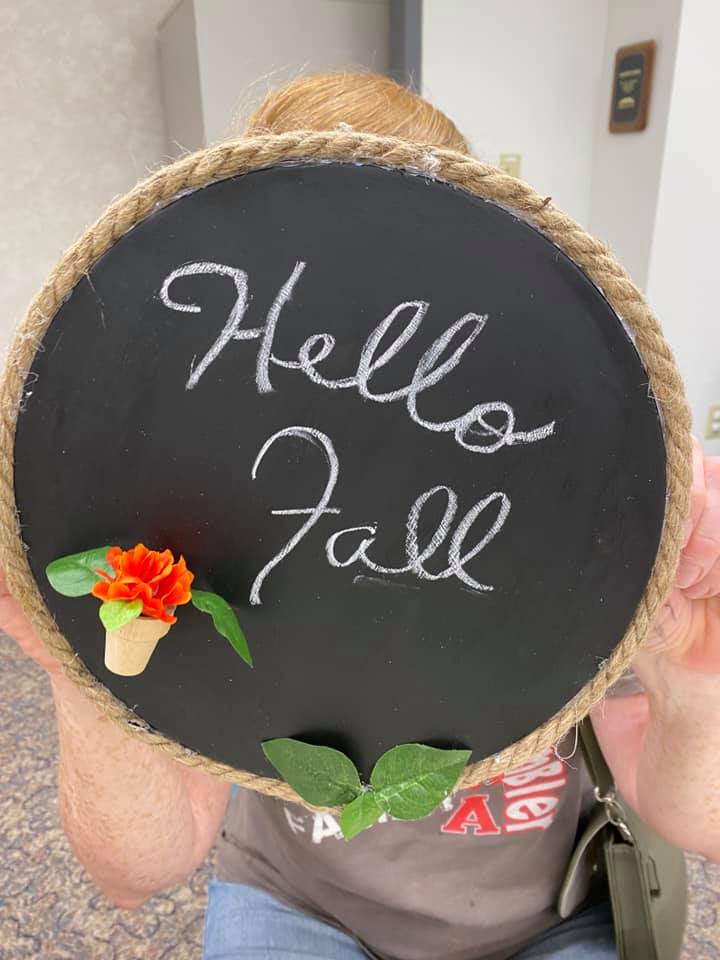 Summer Reading Program 2020
Silly Safaris February 22, 2020
After School
January 2020 Pinterest Night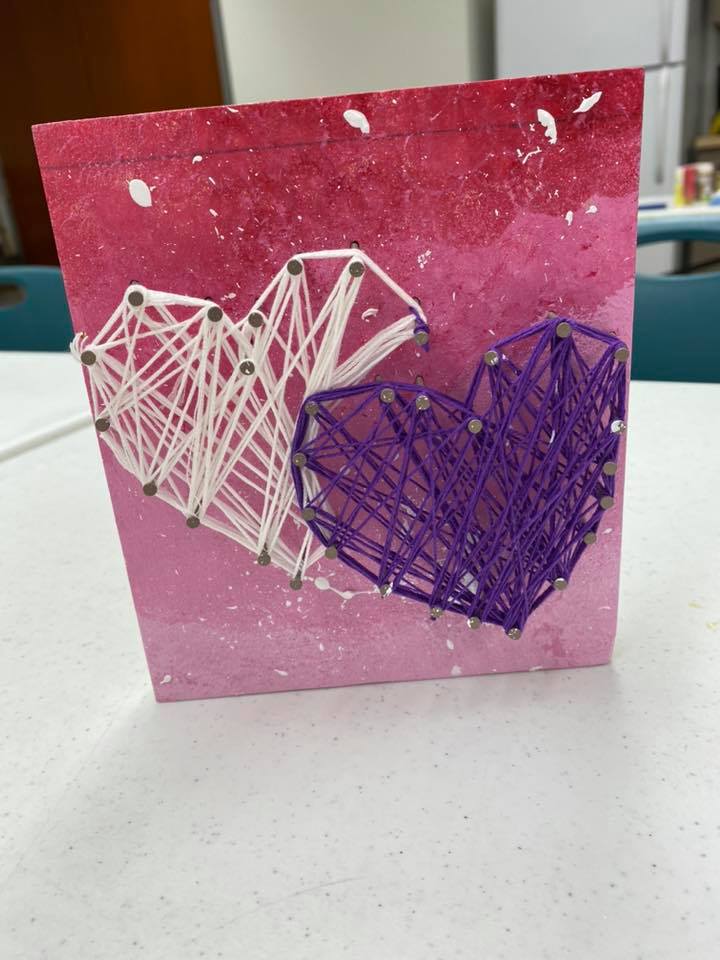 19 people made Valentines string art hearts on Thursday, January 30, 2020.
December Pinterest Night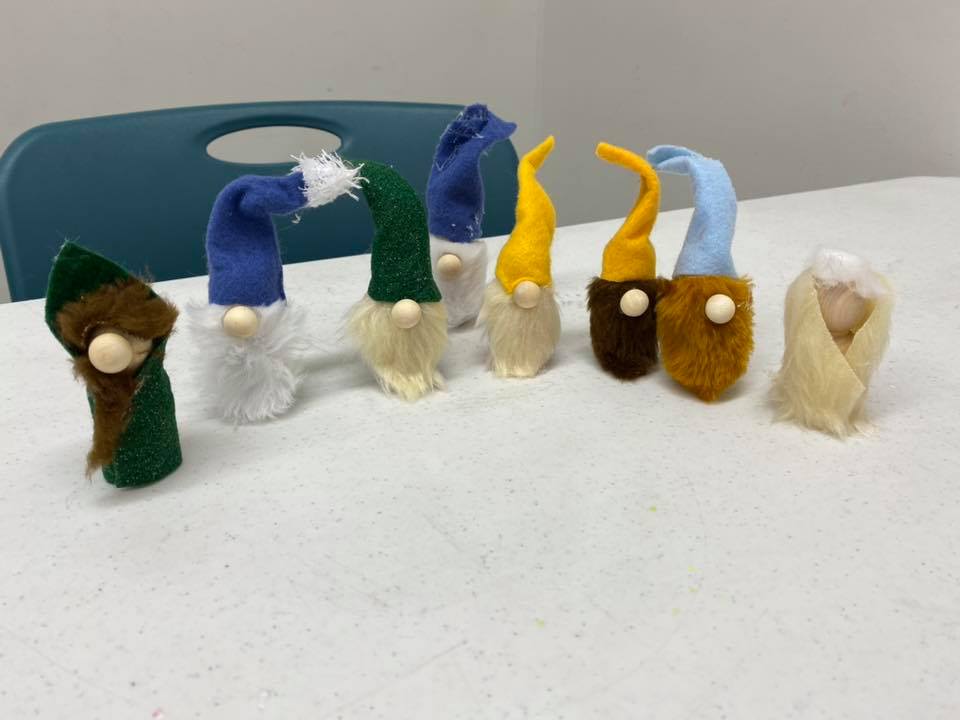 30 people made winter gnomes at Pinterest Night on December 19, 2019.
Trick-or-Treat Rocket to the Moon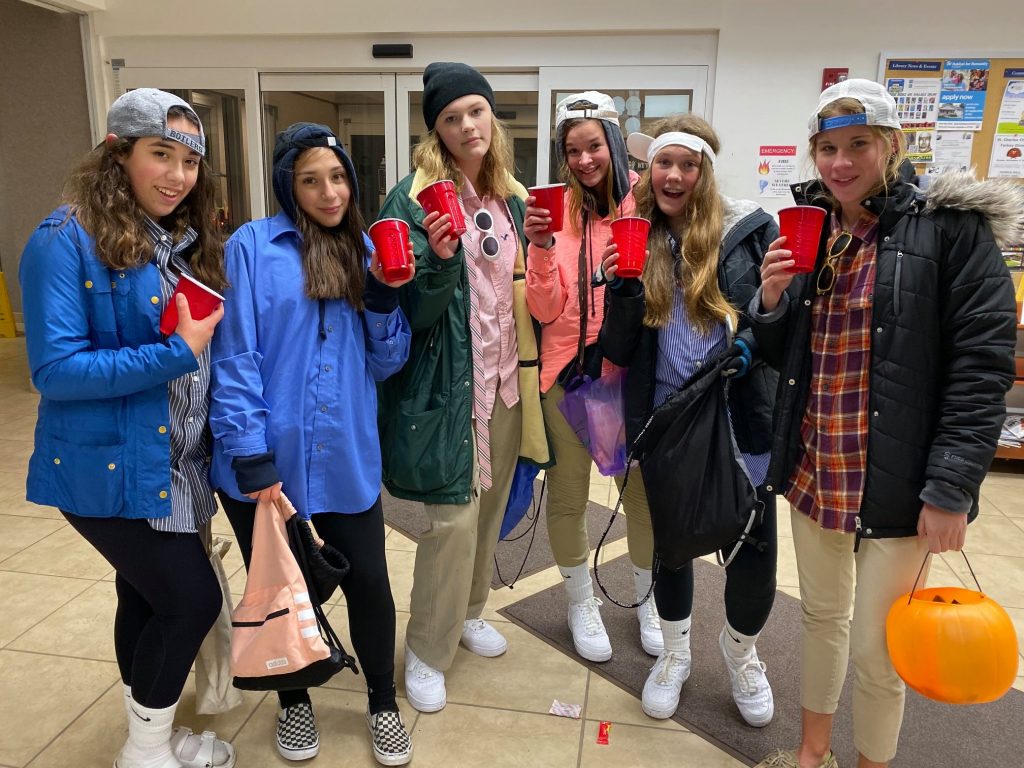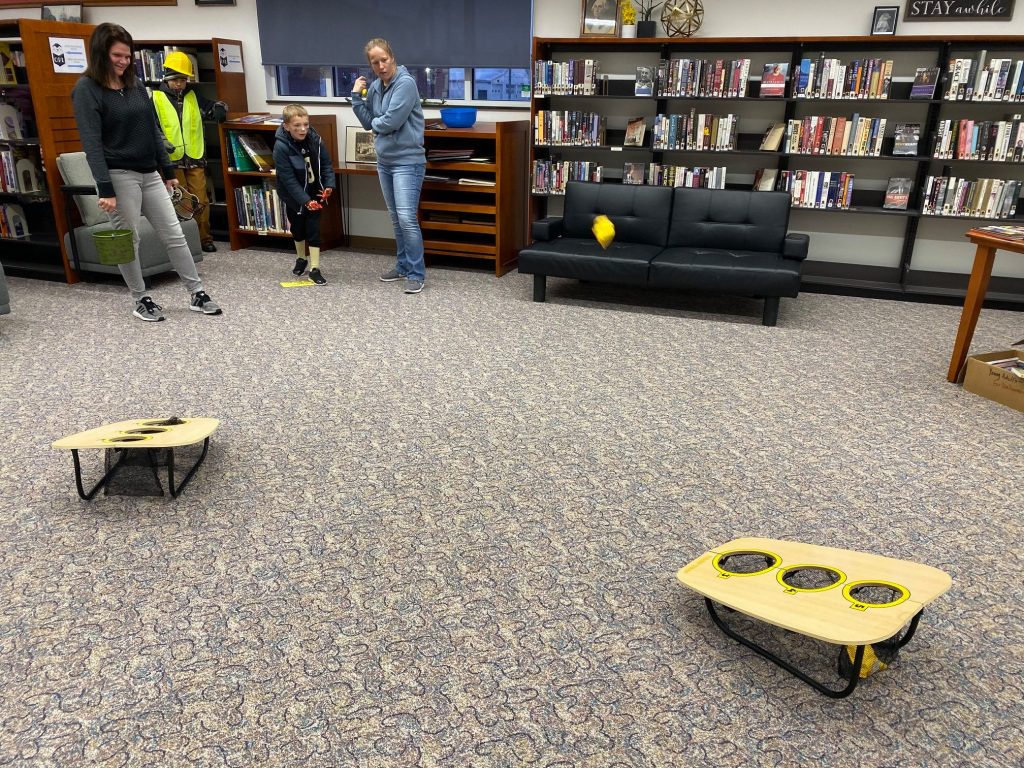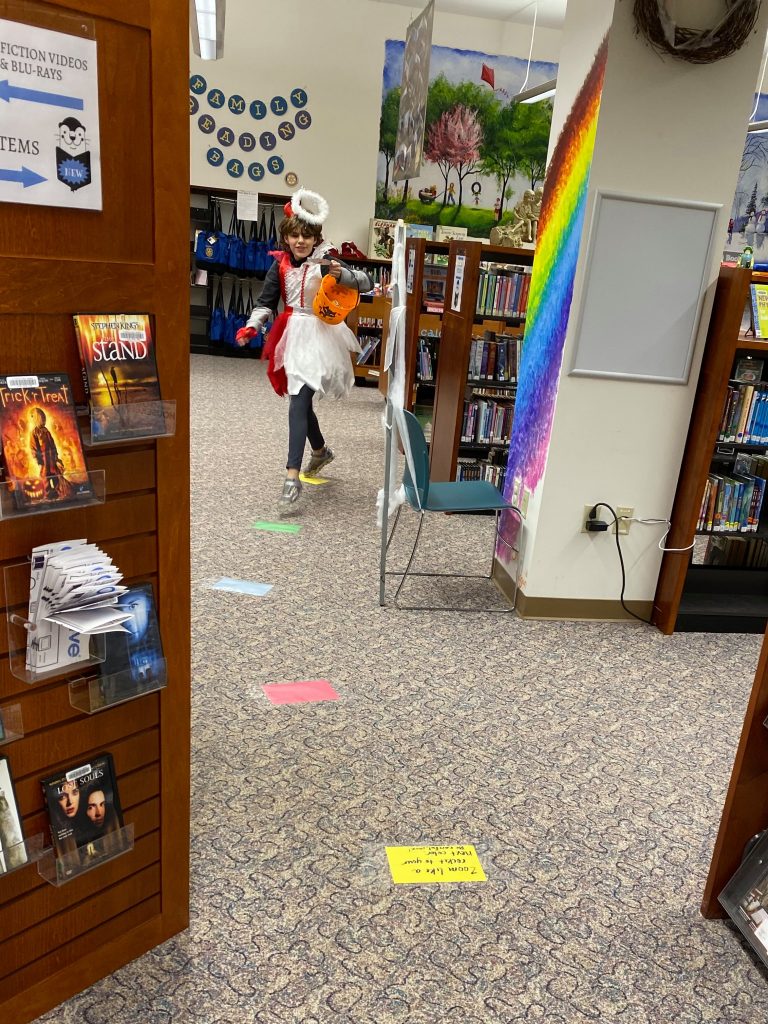 240 dinosaurs, superheroes, and frat boys played our life-size Rocket to the Moon game during trick or treat 2019.
Halloween Bash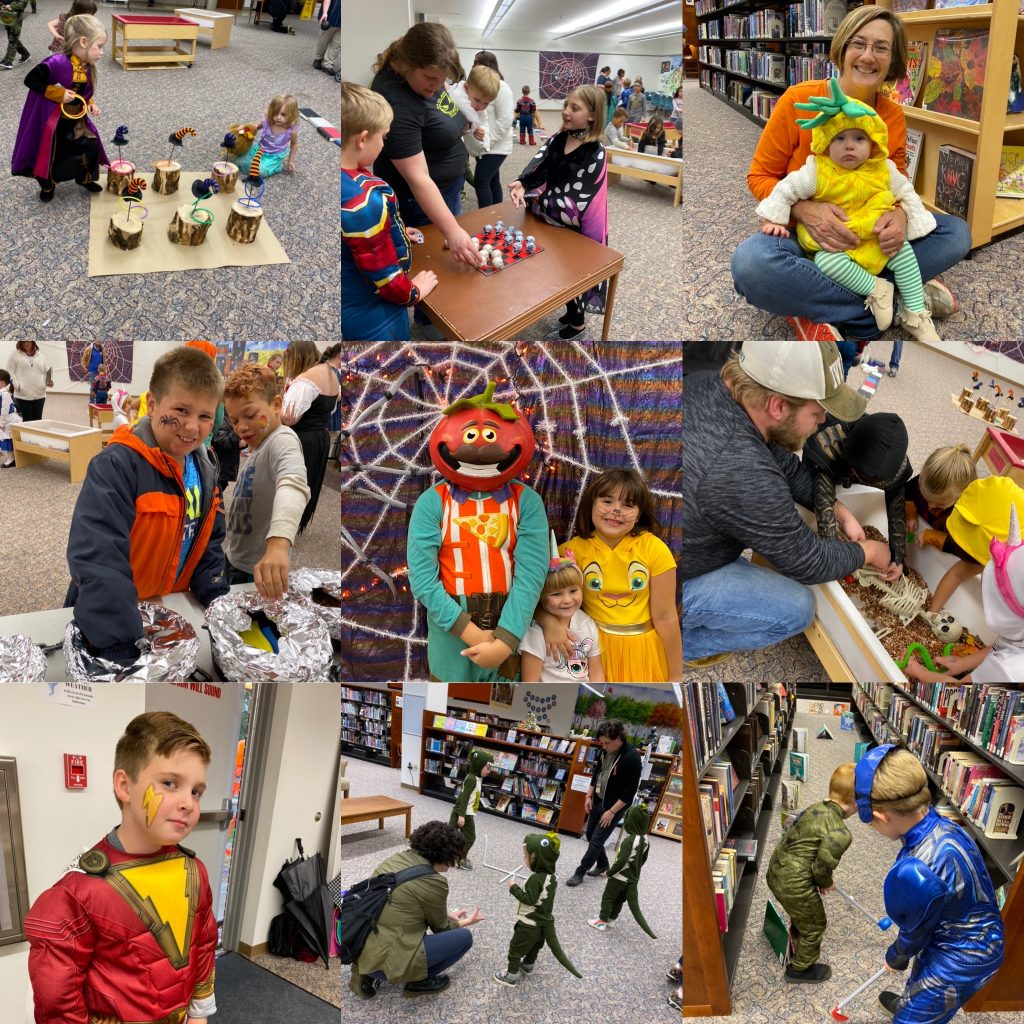 Saturday, October 26, 2019
October Pinterest Night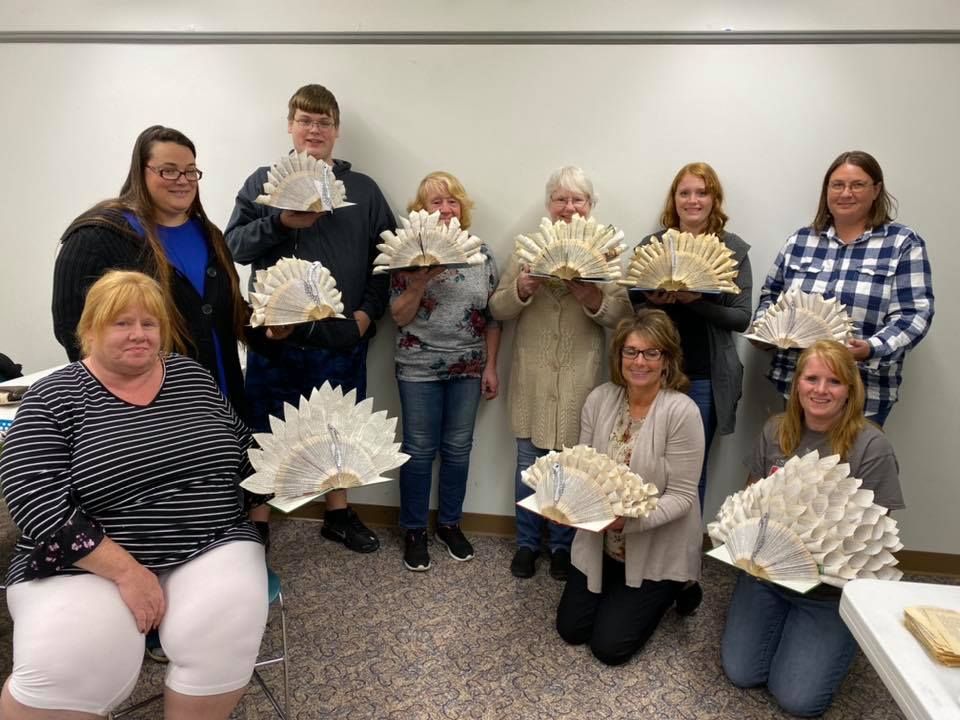 13 people made book turkeys with us on Thursday, October 24, 2019.
Prophetstown State Park's Trail of Scarecrows 2019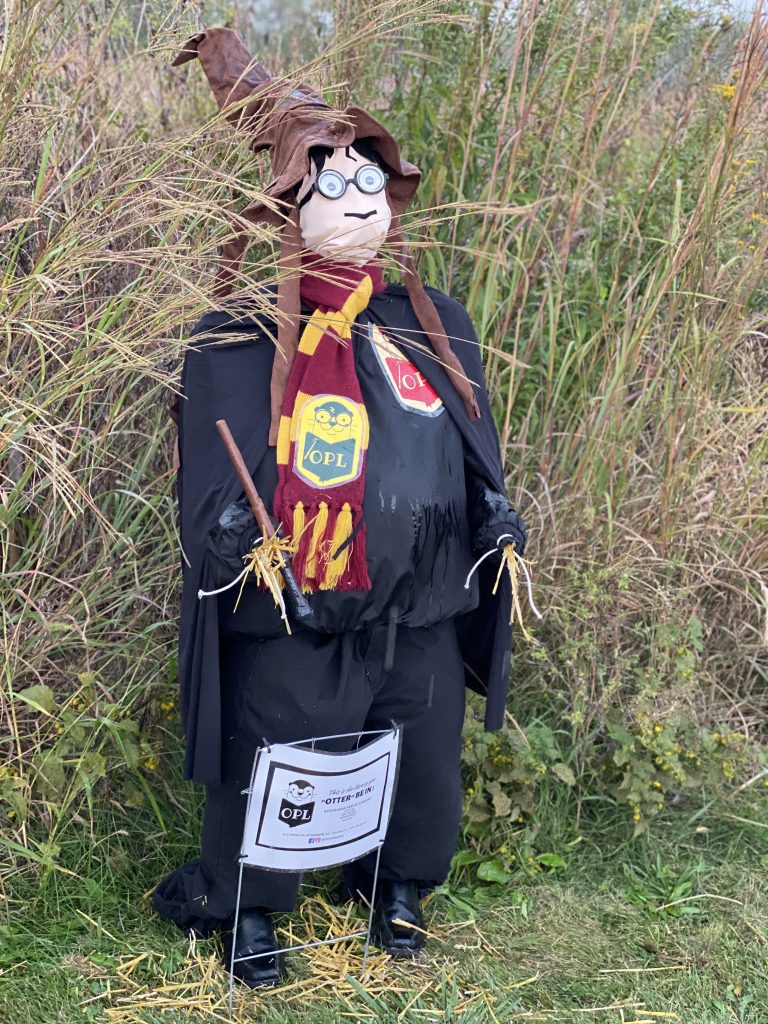 Our Harry Potter scarecrow won 2nd place in Prophetstown State Park's 2019 Trail of Scarecrows!
Superhero Ball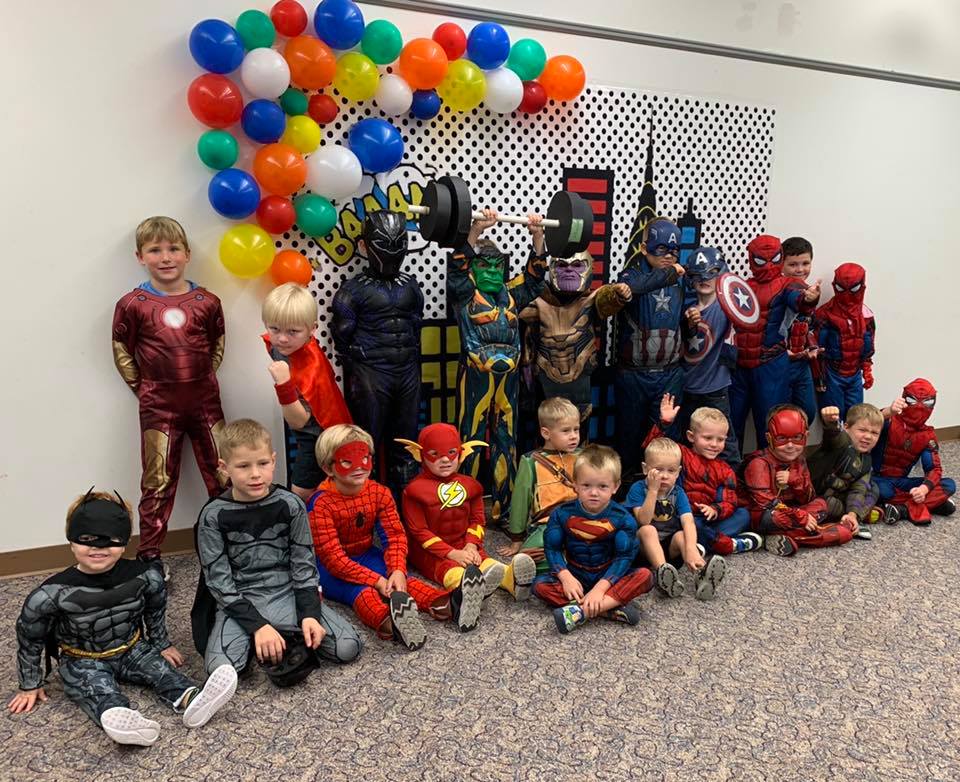 Superheroes, assemble! Batman, Spider-Man, Thor, Captain America, The Flash, two of the Teenage Mutant Ninja Turtles, Hulk, and even Thanos were seen at the Otterbein Public Library's inaugural Superhero Ball on Saturday, September 21, 2019. The tough guys brought their moms and grandmas, dressed as Wonder Woman and Supergirl, to the library for a story, craft, and dancing. Fifty-five total kids and adults attended the mother-son event.
2019 Summer Reading Program: A Universe of Stories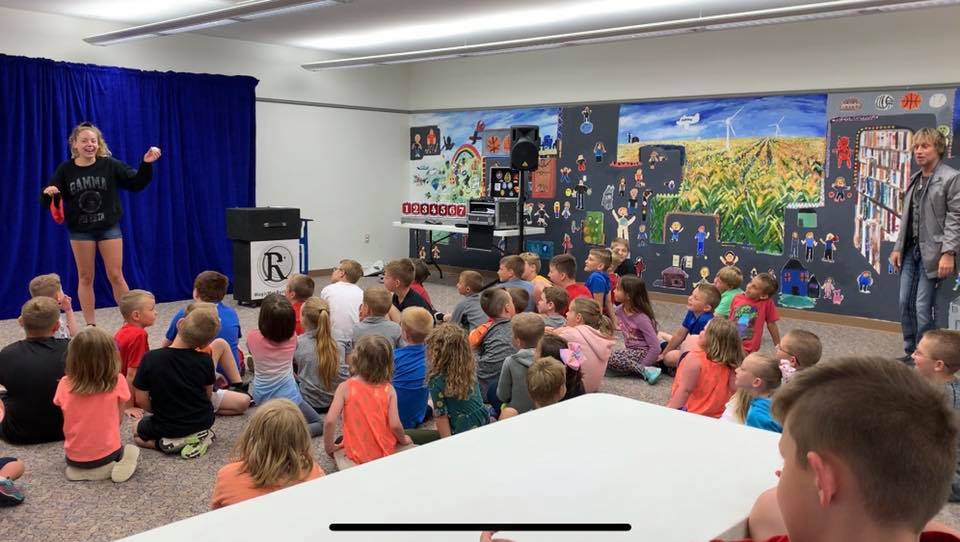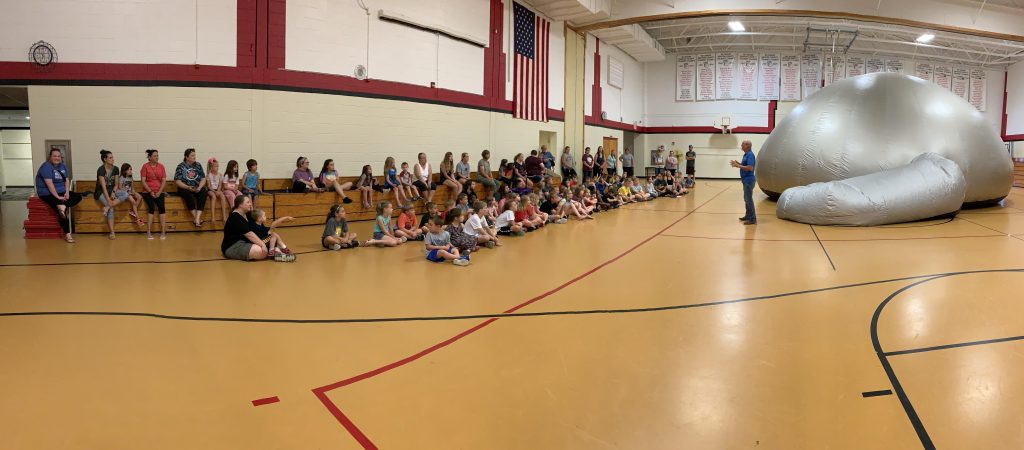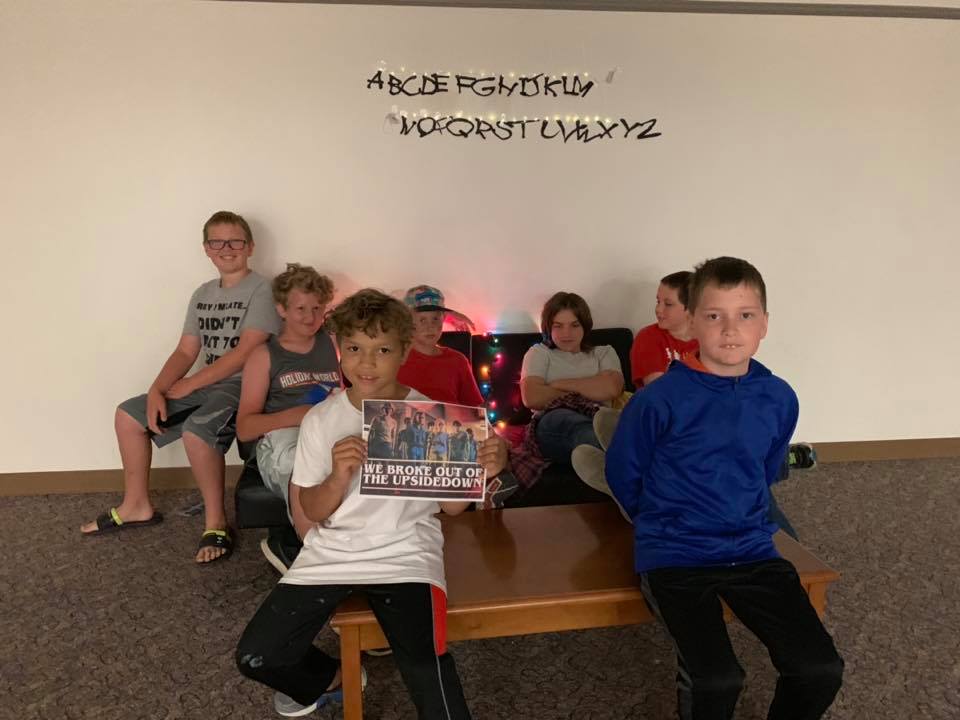 Over 2,000 patrons participated in 123 library programs during the 2019 Summer Reading Program, A Universe of Stories.
The 2019 SRP was sponsored by:
Alliance Bank
Benton Community Foundation
Farmers & Merchants Bank
Fowler Family Dentistry
Helena Chemical
Hoosier Associates Inc.
Tri Kappa
Penguin Random House
Otterbein Pizza King
Purdue Federal Credit Union
Otterbein Rotary Club
Sheets Family Dentistry
Solid Rock Ag Solutions
Wealing Brothers
Our sponsors allowed us to bring these fun and educational programs to Otterbein:
Mobile Ed's SkyDome Planetarium
Magician Rusty Ammerman
Magician Daniel Lusk
Columbian Park Zoo
Professor Steve
Sheltered Reality
A huge thank you to our community members and organizations who facilitated programs for us this summer!
John Weitlauf
Brooke Criswell
Charles Gove
Zonda Bryant
Halle Shoults
Kristi Linvill
Wabash Valley Astronomical Society
Prophetstown State Park
Benton County Extension Office
And thank you to all of our summer volunteers!
Fancy Nancy Tea Party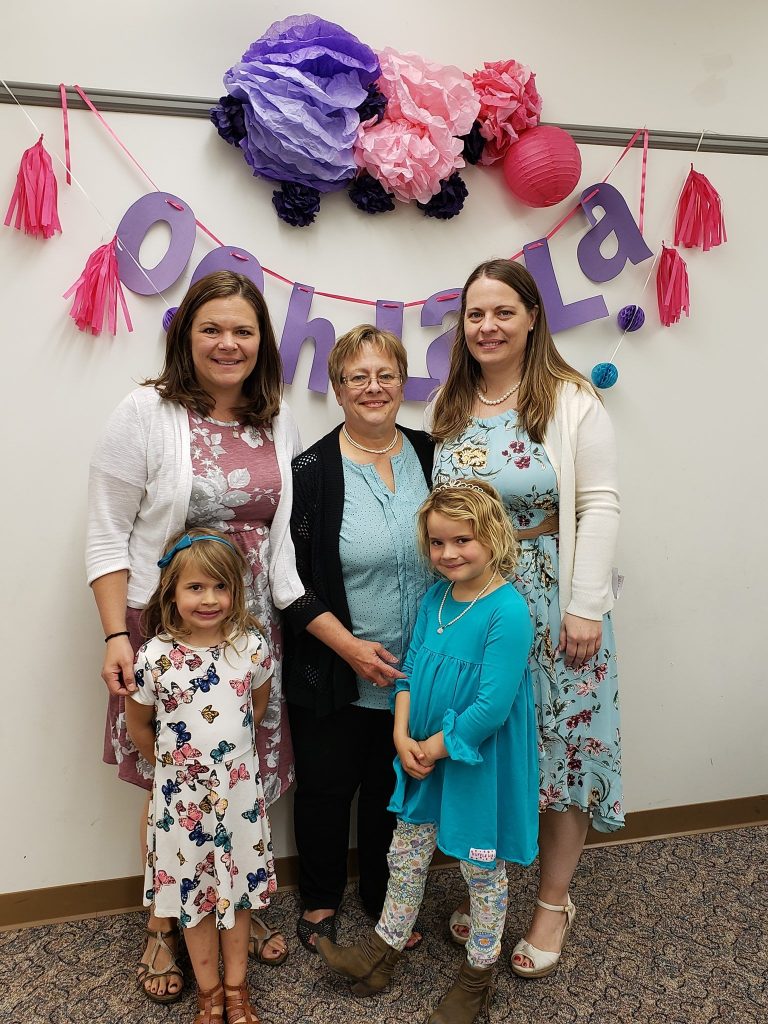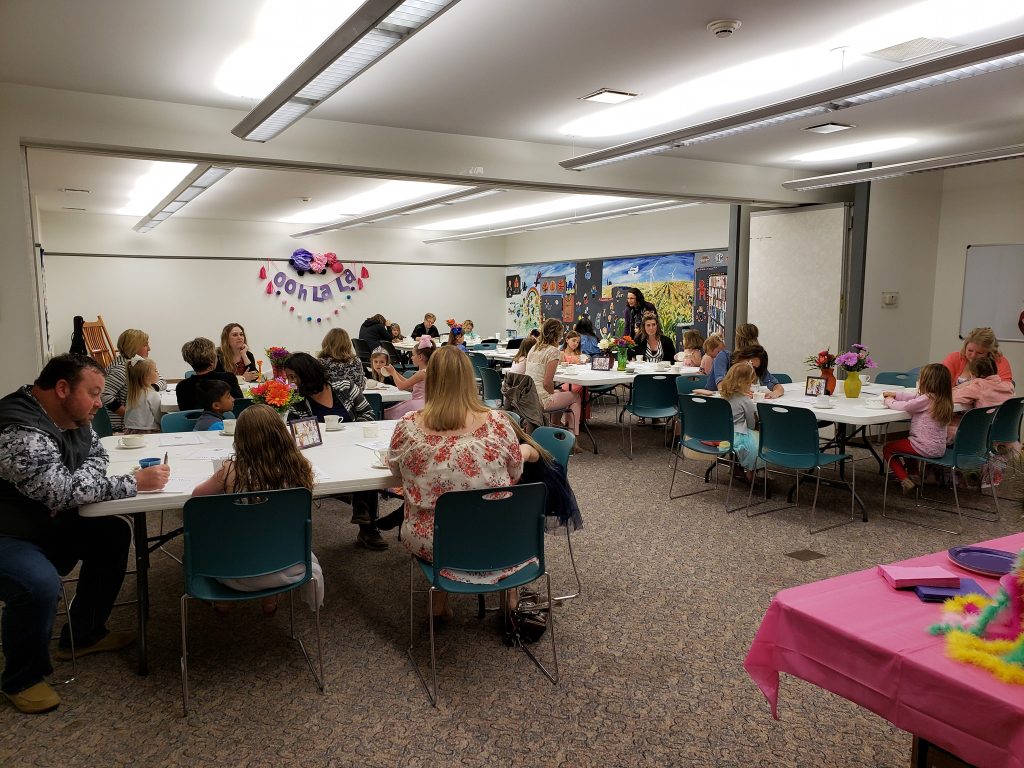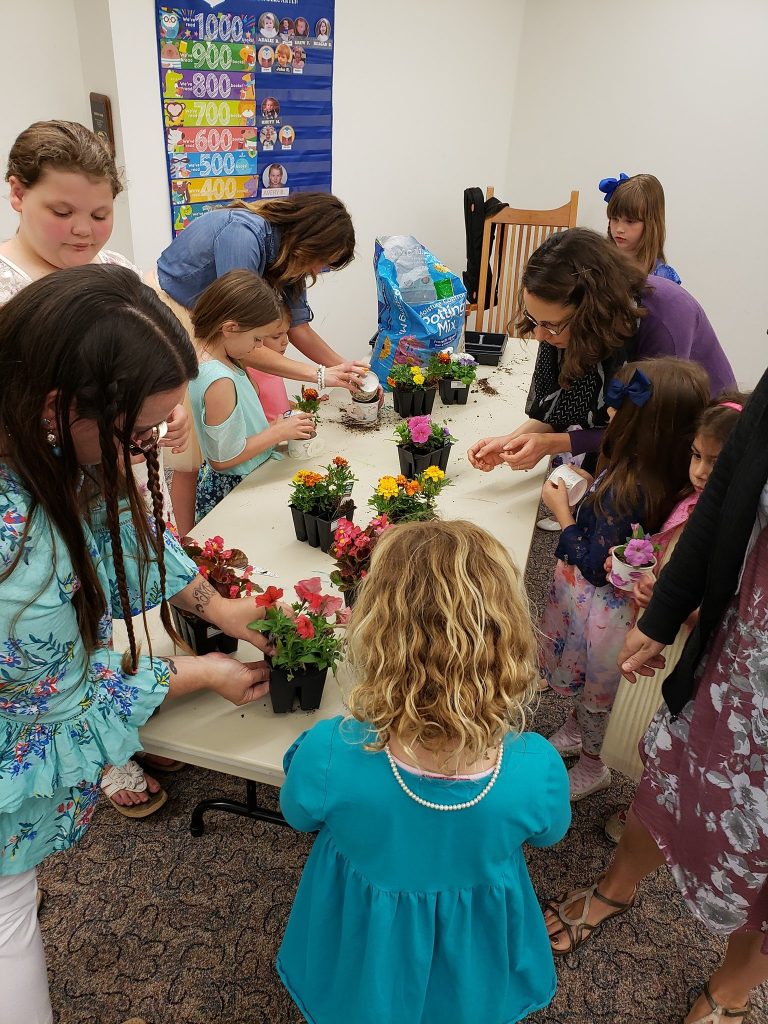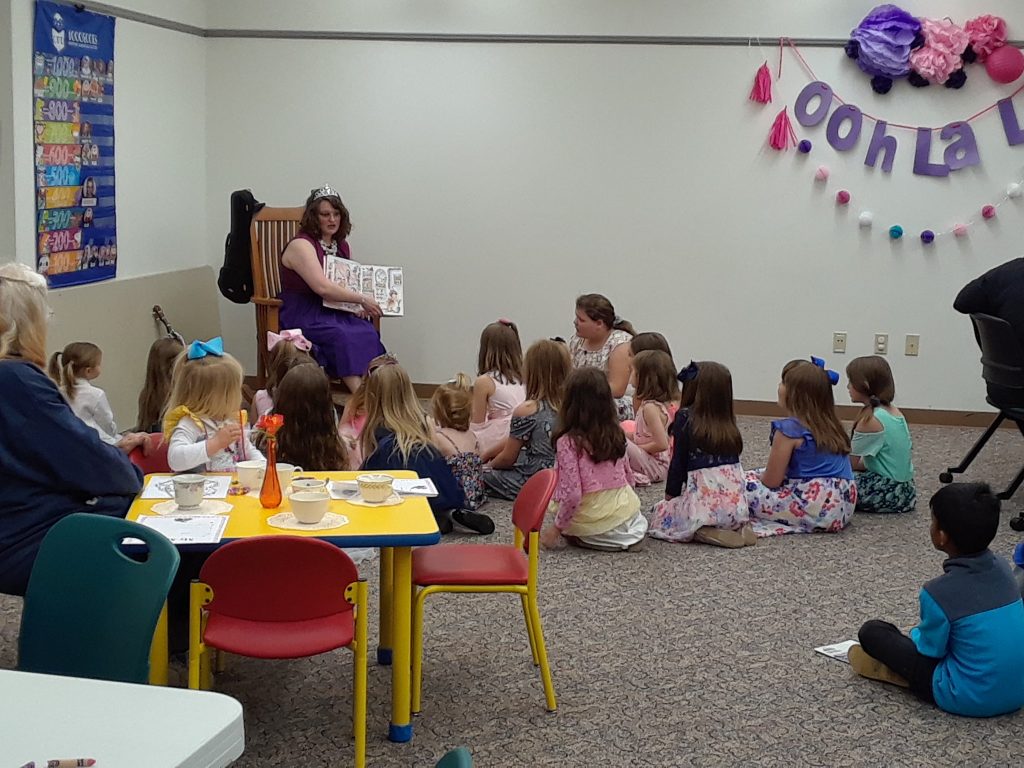 60 kids, moms, grandmas, aunts, and dads joined us on Saturday, May 11 for our annual Fancy Nancy Tea Party.
Star Wars Storytime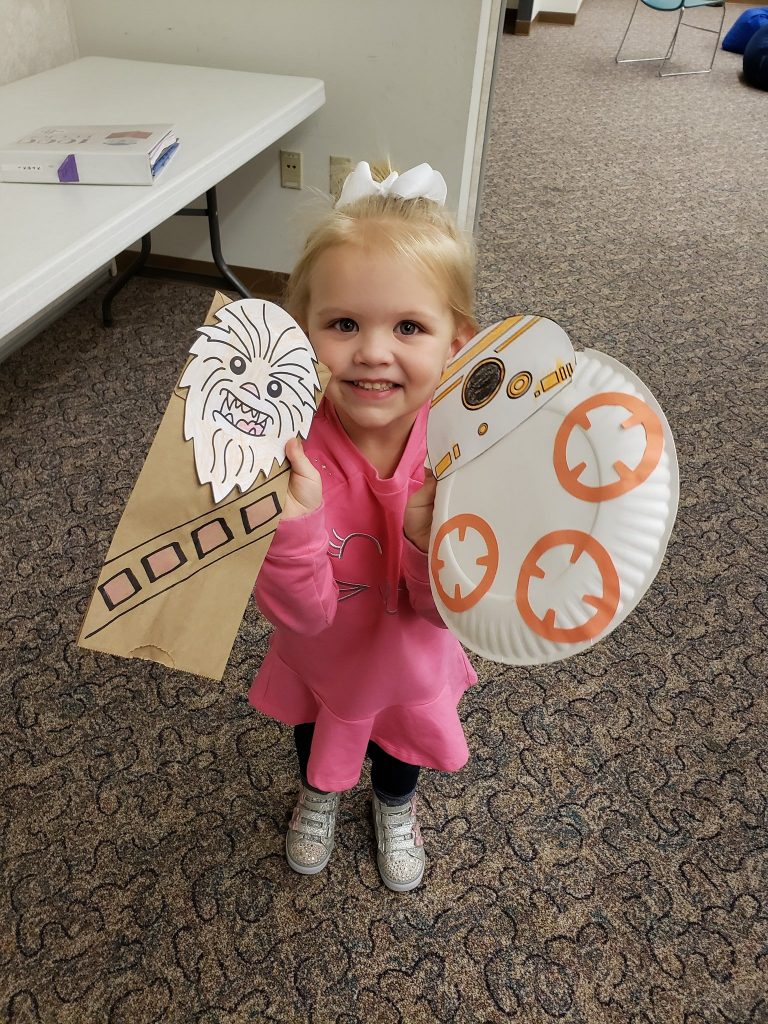 Tuesday, April 30, 2019
April Pinterest Night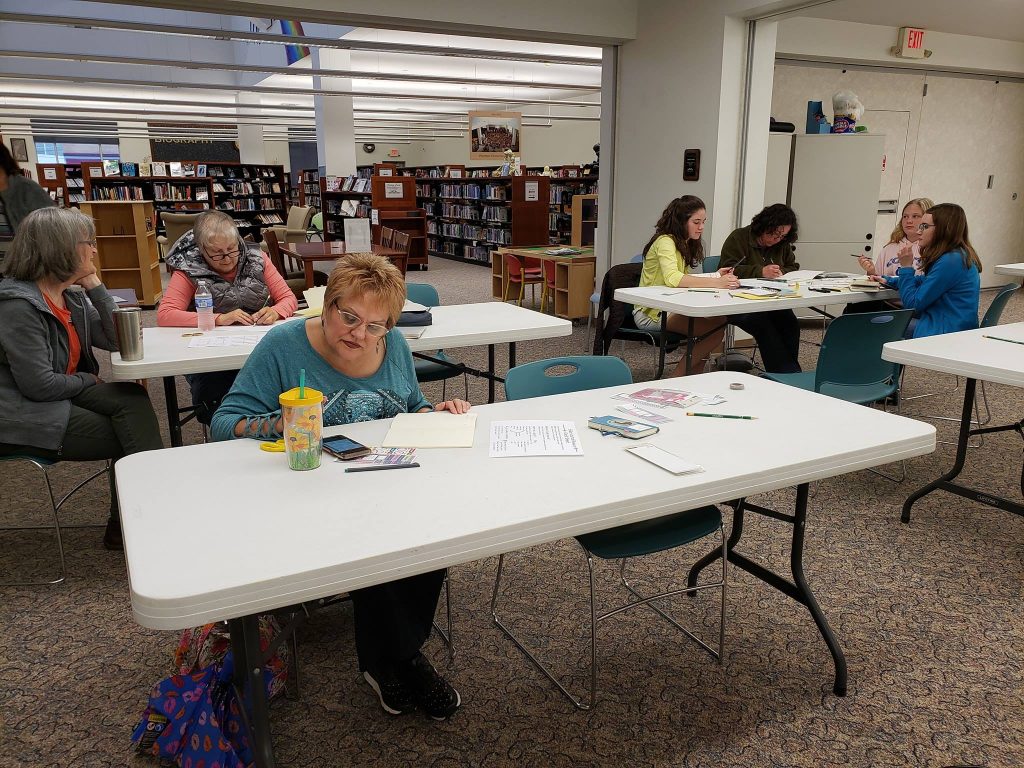 8 patrons learned about bullet journals at Pinterest Night on Thursday, March 25, 2019.
Easter Storytime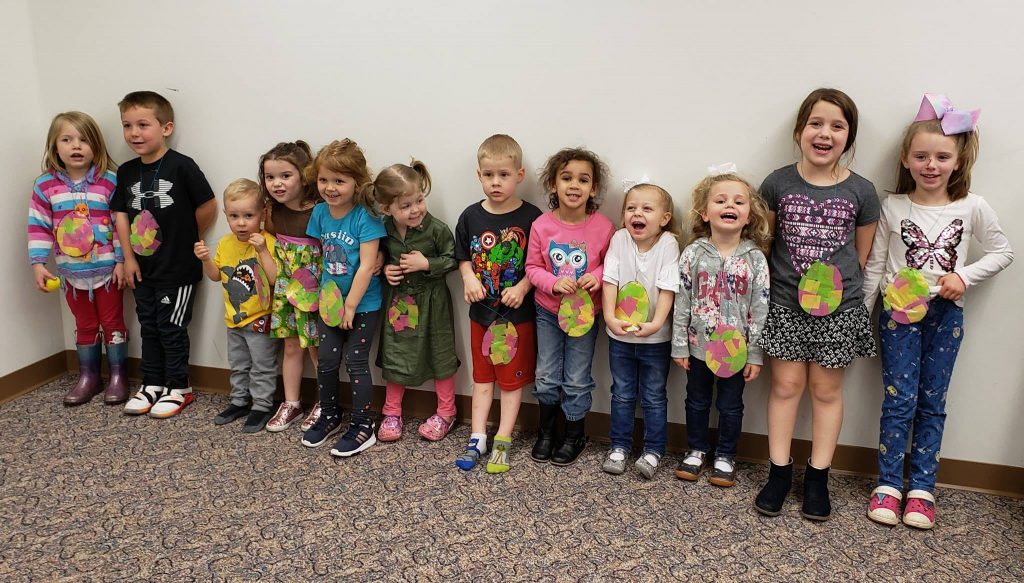 We hunted for eggs and made egg suncatchers at Easter storytime on April 16, 2019.
March Pinterest Night
March NerfNite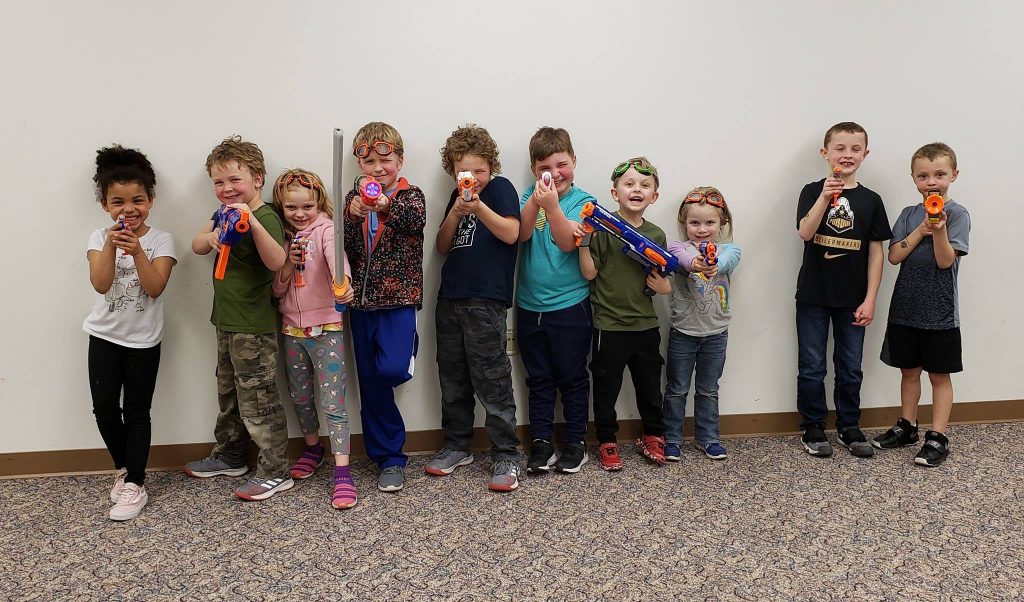 44 adults, kids, and teens attended three NerfNite programs during spring break 2019.
Author Sally Coffman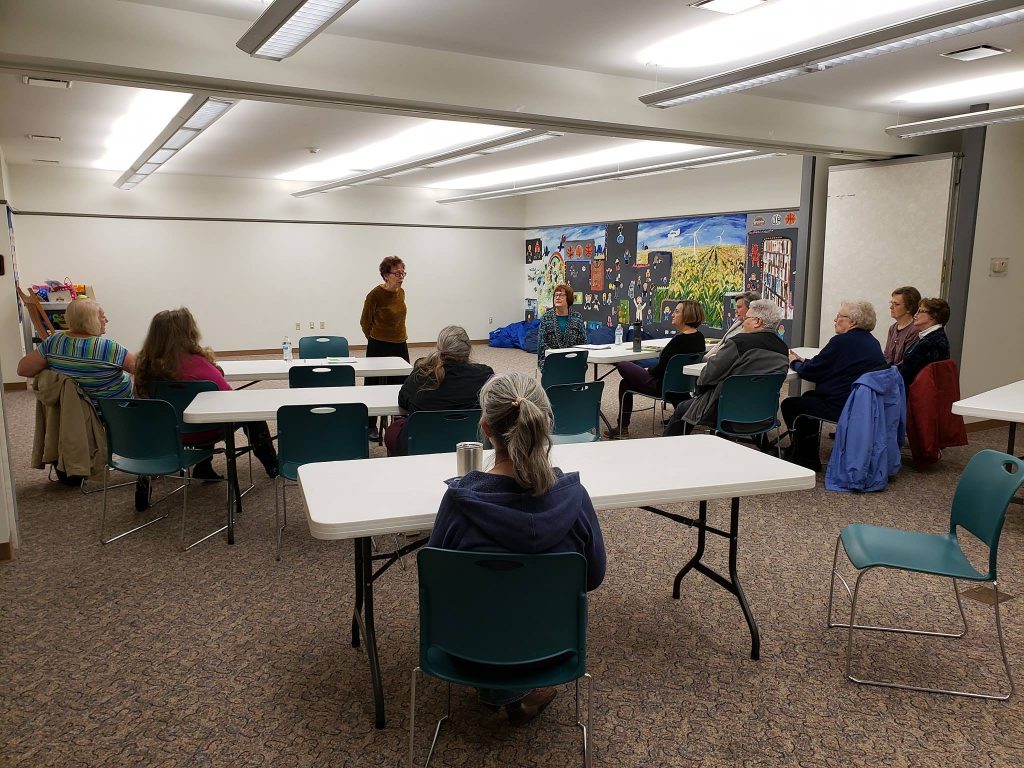 Local author and humorist Sarah "Sally" Coffman spoke at the library on Tuesday, March 19, 2019
St. Patrick's Day Storytime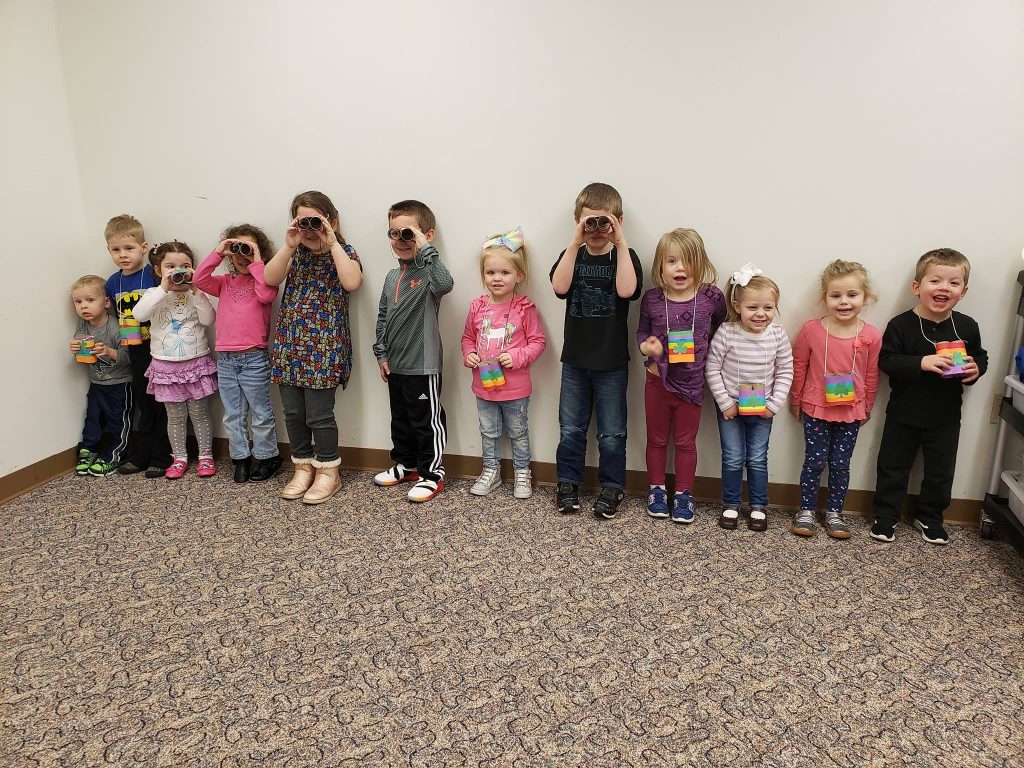 We made leprechaun binoculars at St. Patrick's Day storytime on Tuesday, March 12.
Dr. Seuss Storytime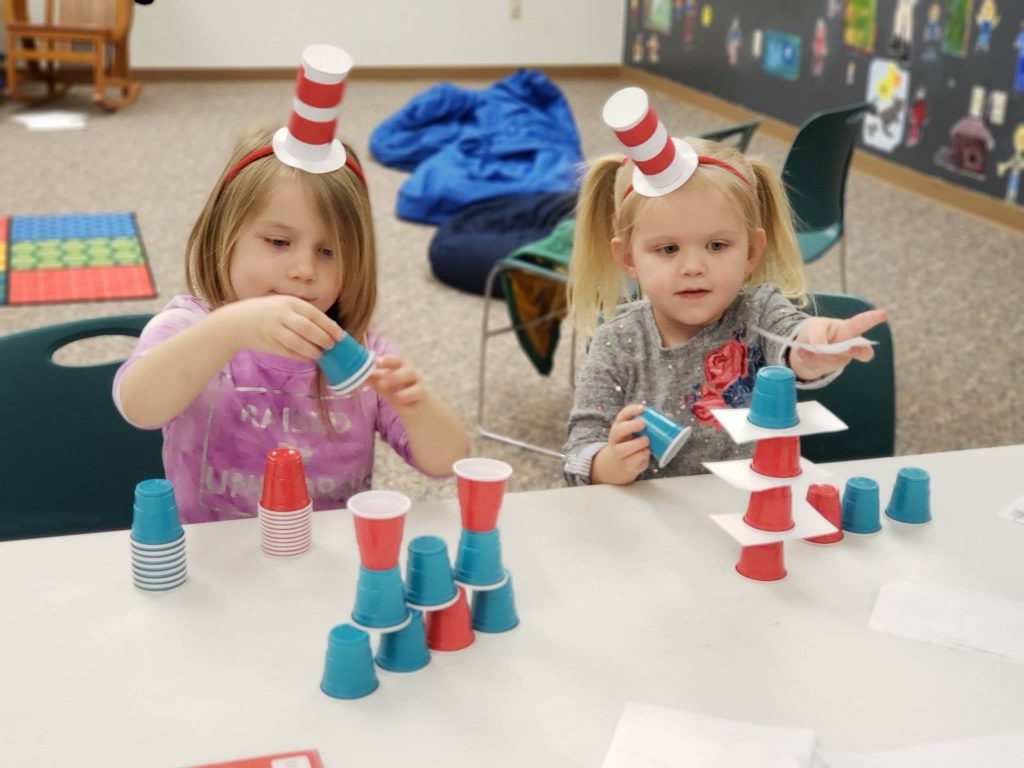 We celebrated Dr. Suess' birthday at storytime on February 26. We read Dr. Suess books and explored Suess-inspired STEAM stations.
February Pinterest Night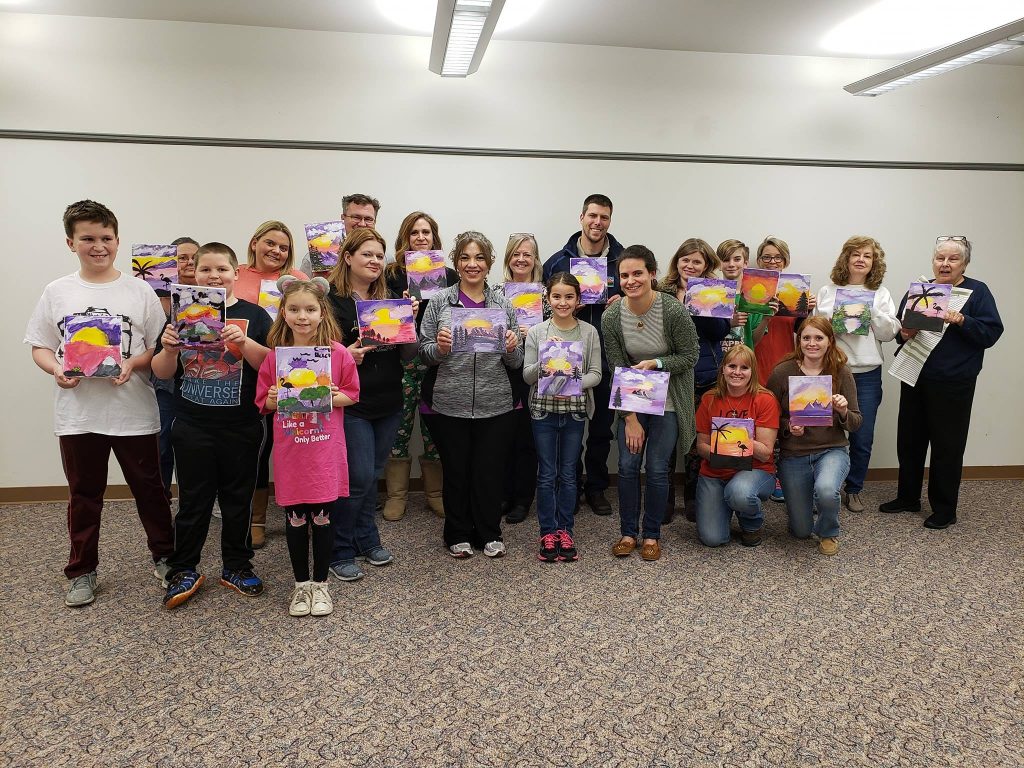 25 patrons painted along with Bob Ross at Pinterest Night on Thursday, February 28, 2109/
January Pinterest Night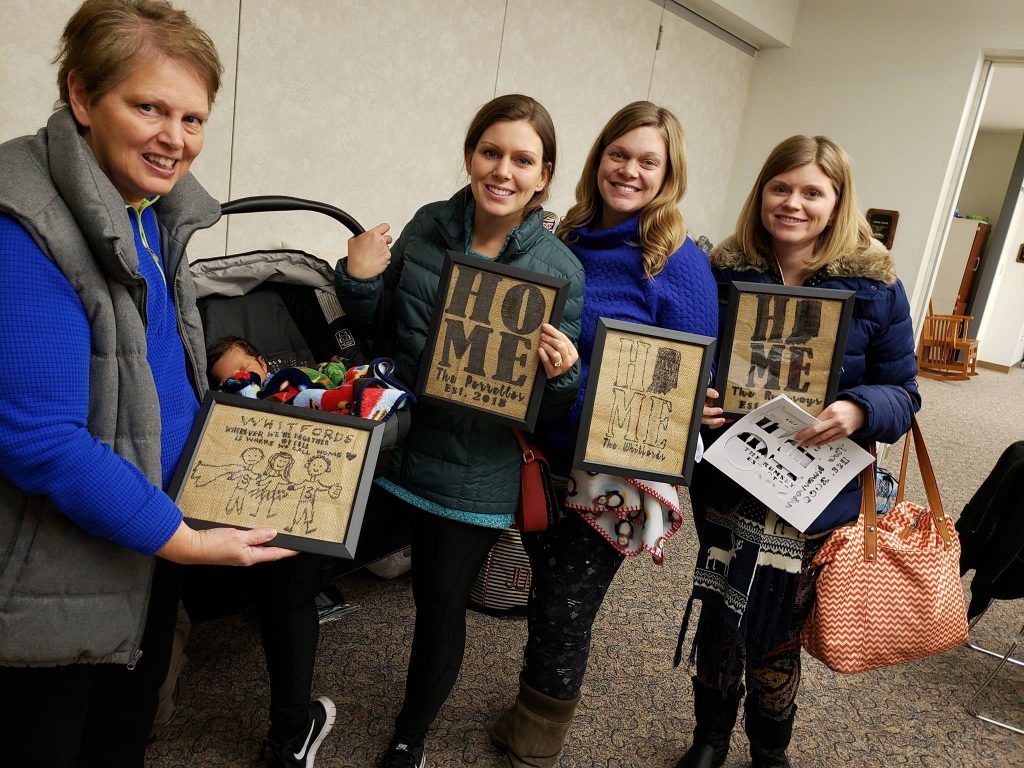 42 patrons made family signs at Pinterest Night on Thursday, February 7,  2019.
Christmas with the Clauses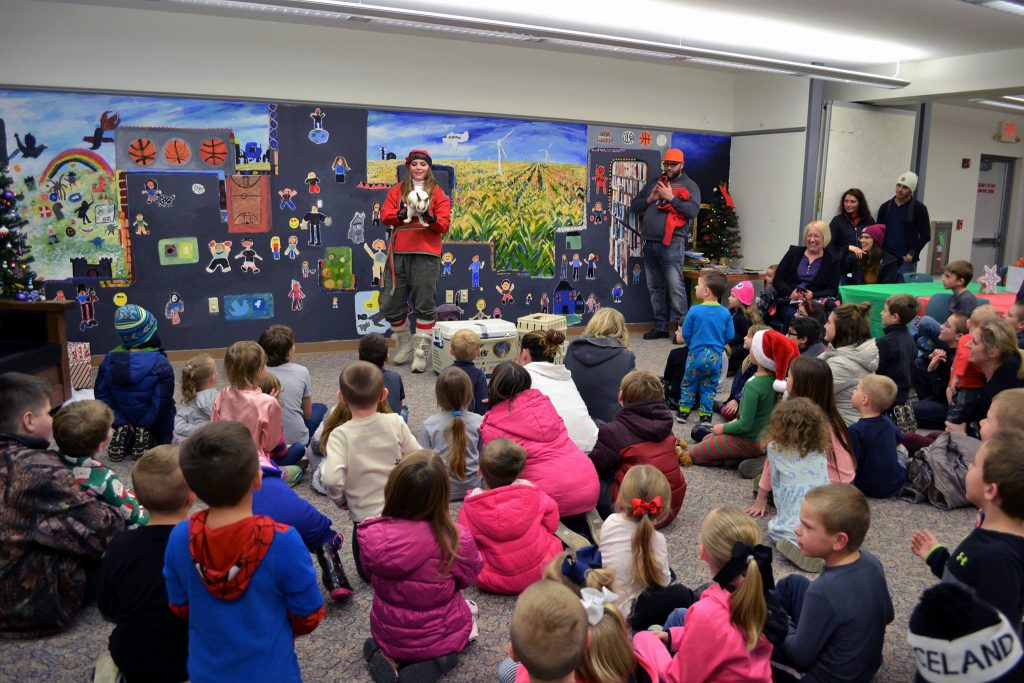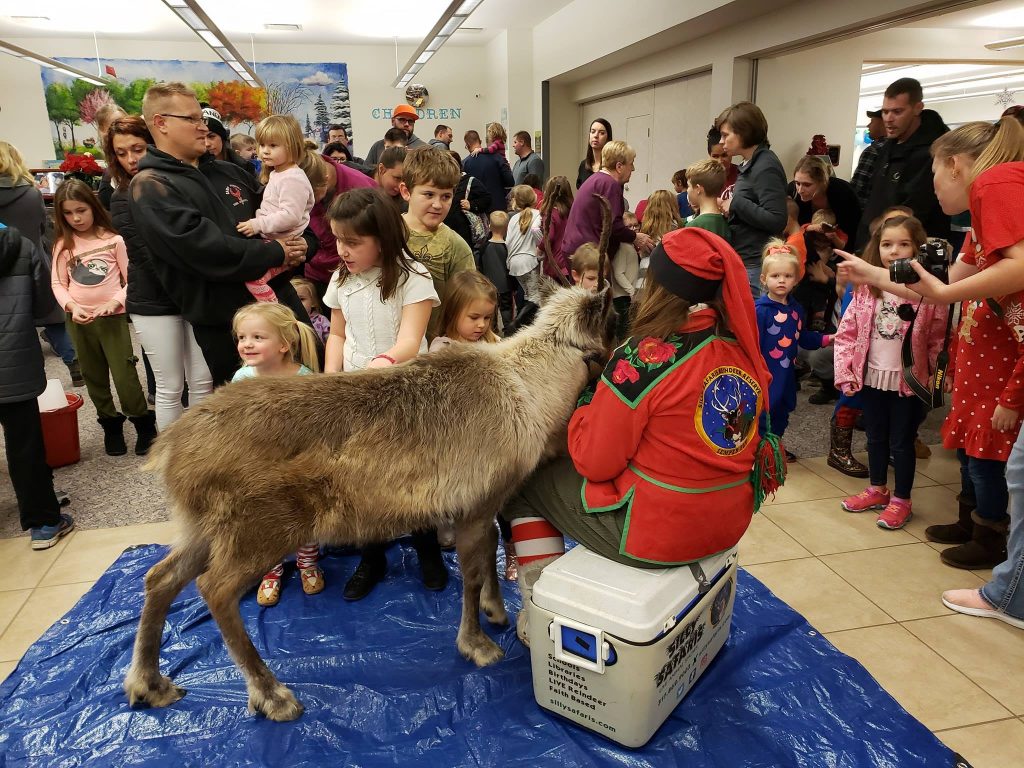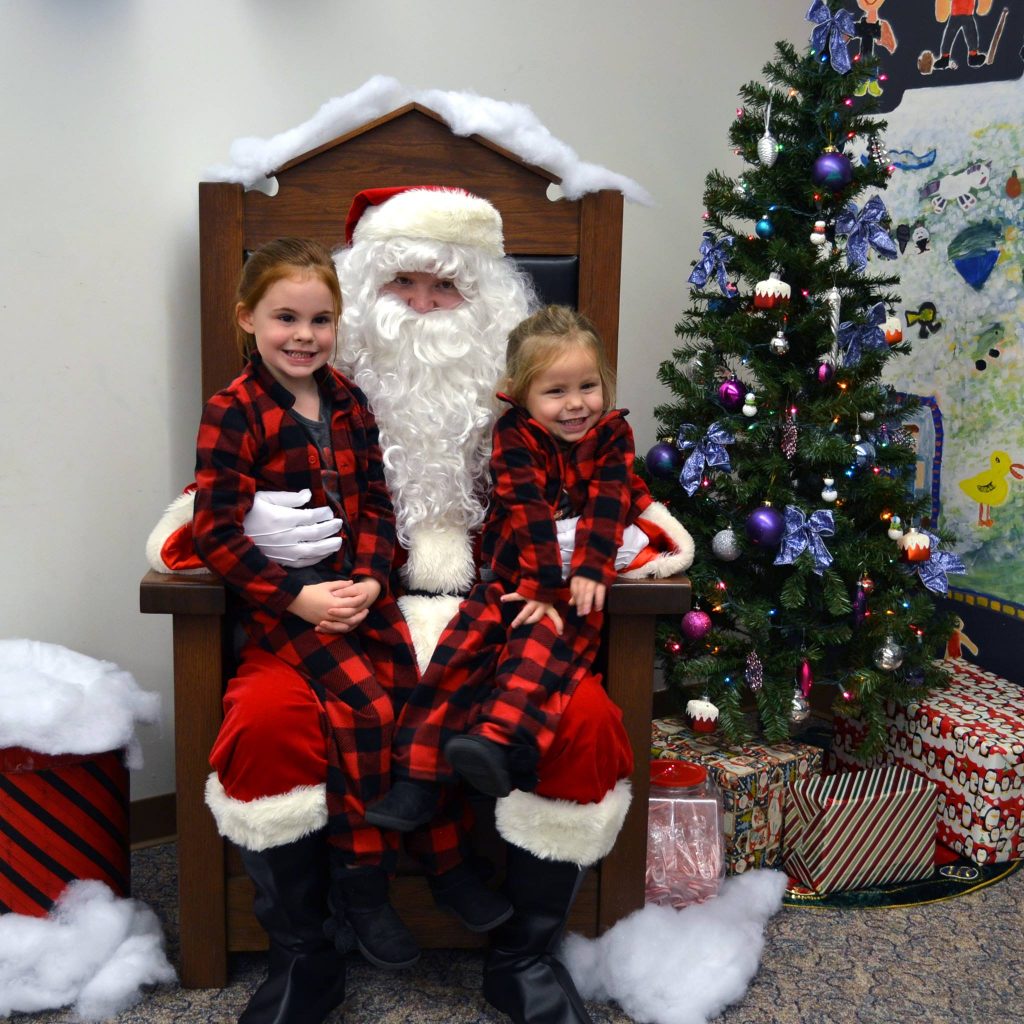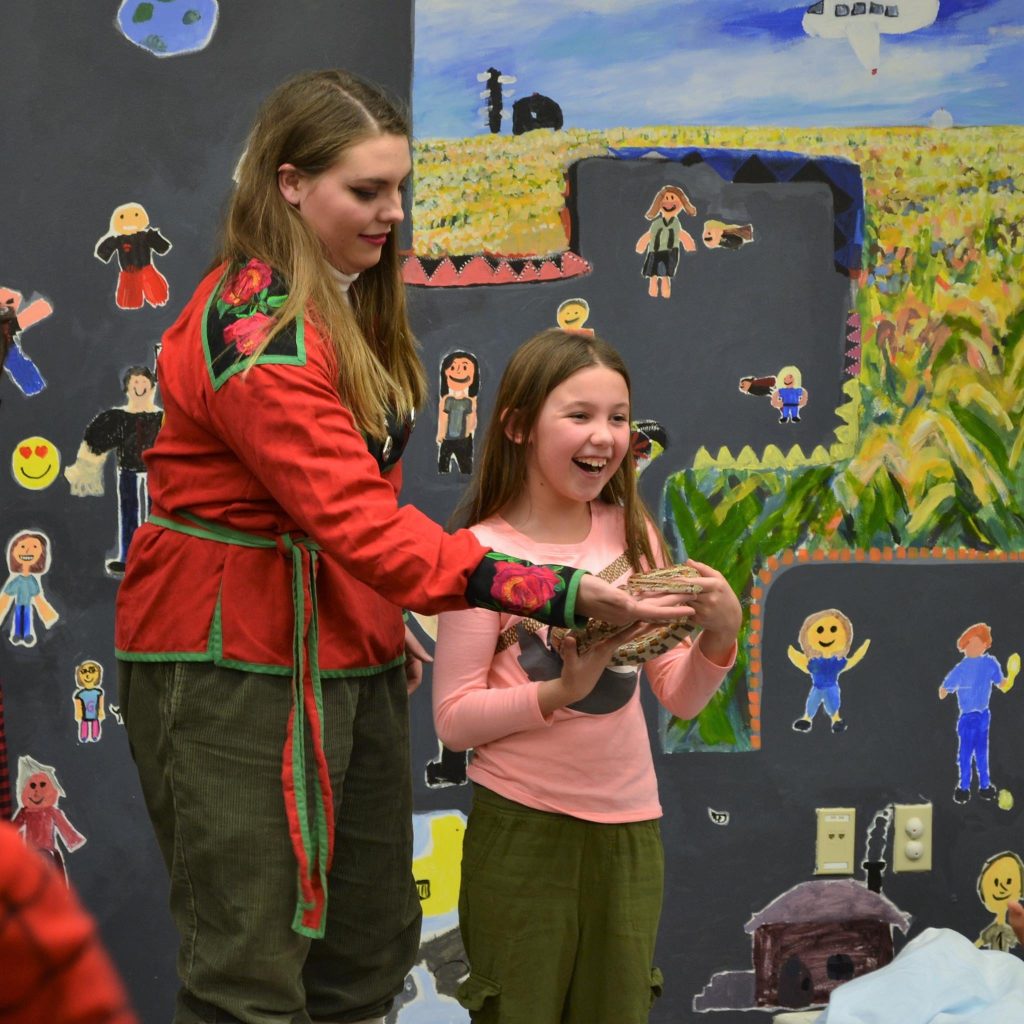 On Friday, December 14, 250 patrons attended the Otterbein Public Library's Christmas with the Clauses. They read a story with Mrs. Claus, decorated cookies, had their pictures taken with Santa, and got to pet a real reindeer from Silly Safaris! This event wouldn't have been possible without local sponsorship from: Rowe Truck Equipment, Farmers & Merchants Bank, Alliance Bank, Otterbein Masonic Lodge, Otterbein Rotary Club, and the Town of Otterbein. The library would also like to thank Ron Shoup, Sandra Sattler, and everyone who volunteered their time and made this an unforgettable holiday season for the children and parents of Otterbein!
November Pinterest Night sponsored by Jolie of Thirty-One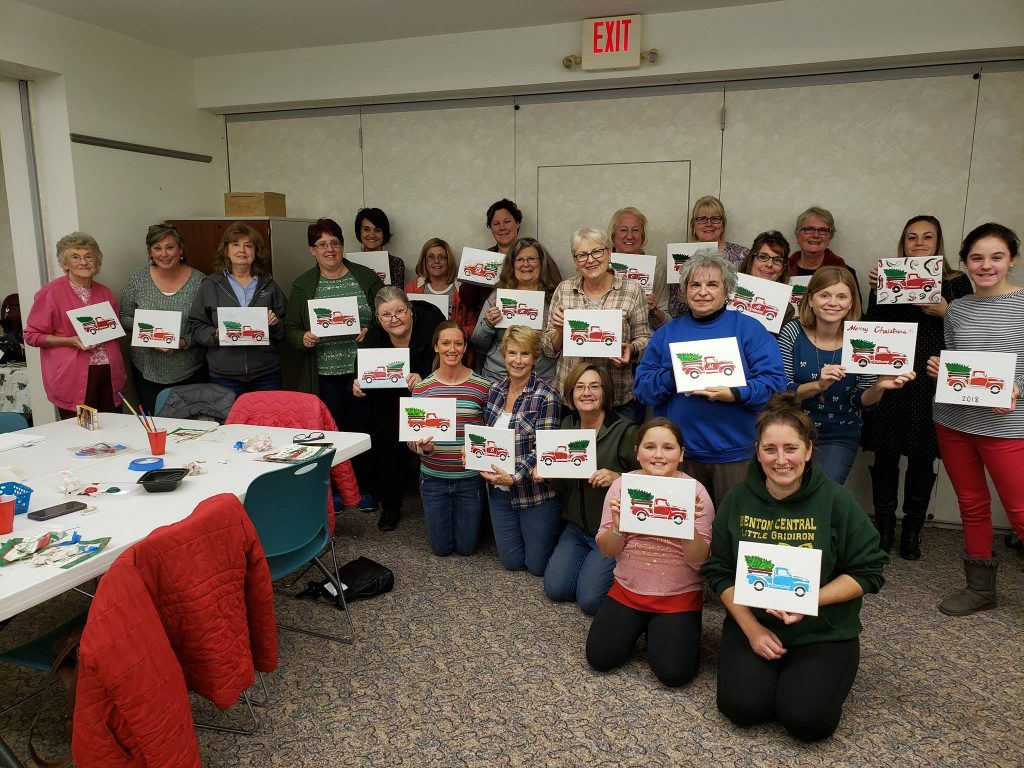 37 amazing ladies (not all pictured) joined us for Pinterest Night on November 29
Prophetsown State Park's Trail of Scarecrows
Waldo won 4th place!
Halloween Candy Land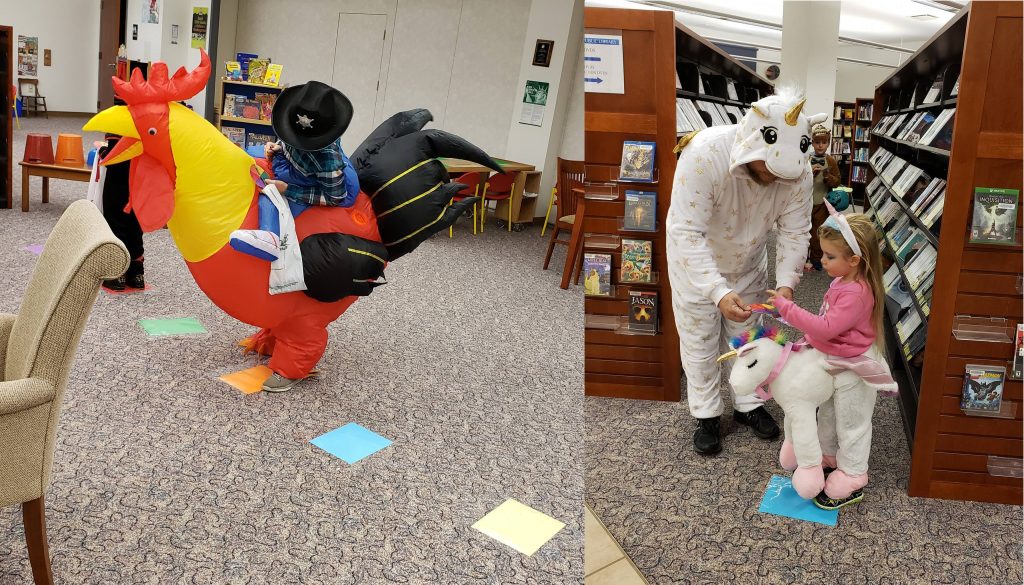 350 unicorns, zombies, and superheroes played life-sized Candy Land at the library on Halloween
October Pinterest Night sponsored by Jolie & Melissa of Thirty-One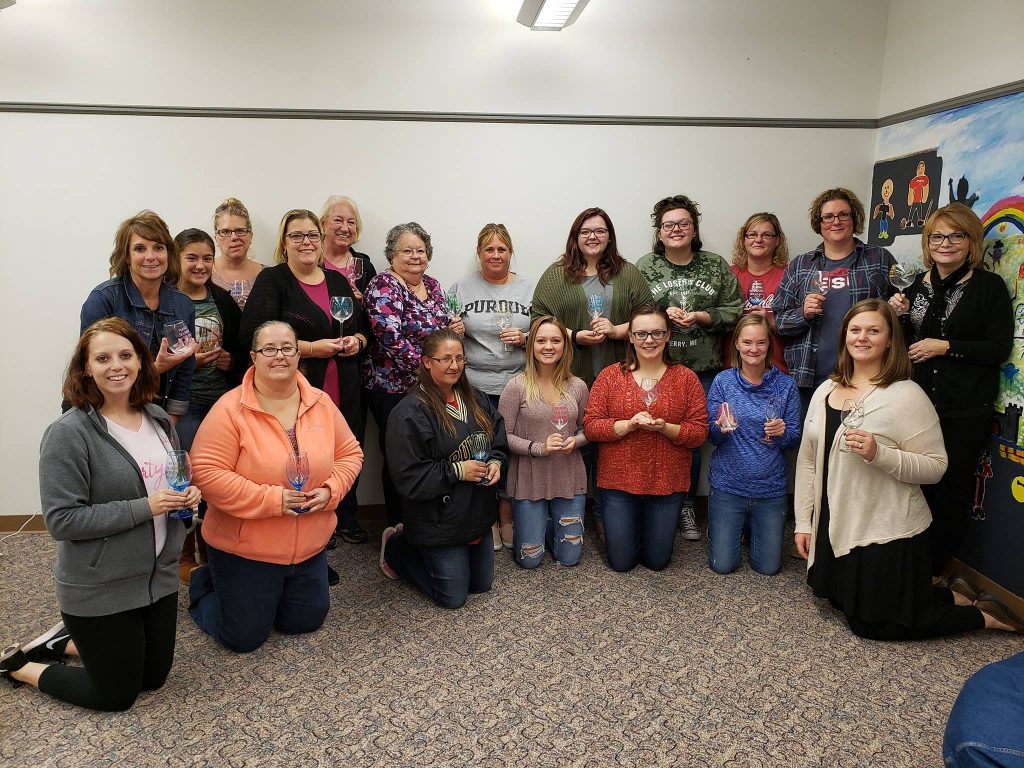 21 ladies decorated wine glasses on Thursday, October 25
After School STEAM


63 kids & teens participated in our After School STEAM programs every Monday in October
September Pinterest Night
Pirate Parrrty
Ahoy mateys! 35 pirates attended Otterbein Public Library's Pirate Parrrty on Saturday, September 15.
They listened to a story, sang ukulele pirate song, learned pirate lingo, made crafts, played games, and feasted on pirate snacks!
Back to Hogwarts Bash
11 kids and teens participated in our Harry Potter program on Friday, August 31. We made crafts, played games, went on a scavenger hunt, and enjoyed wizard snacks!
August Storytimes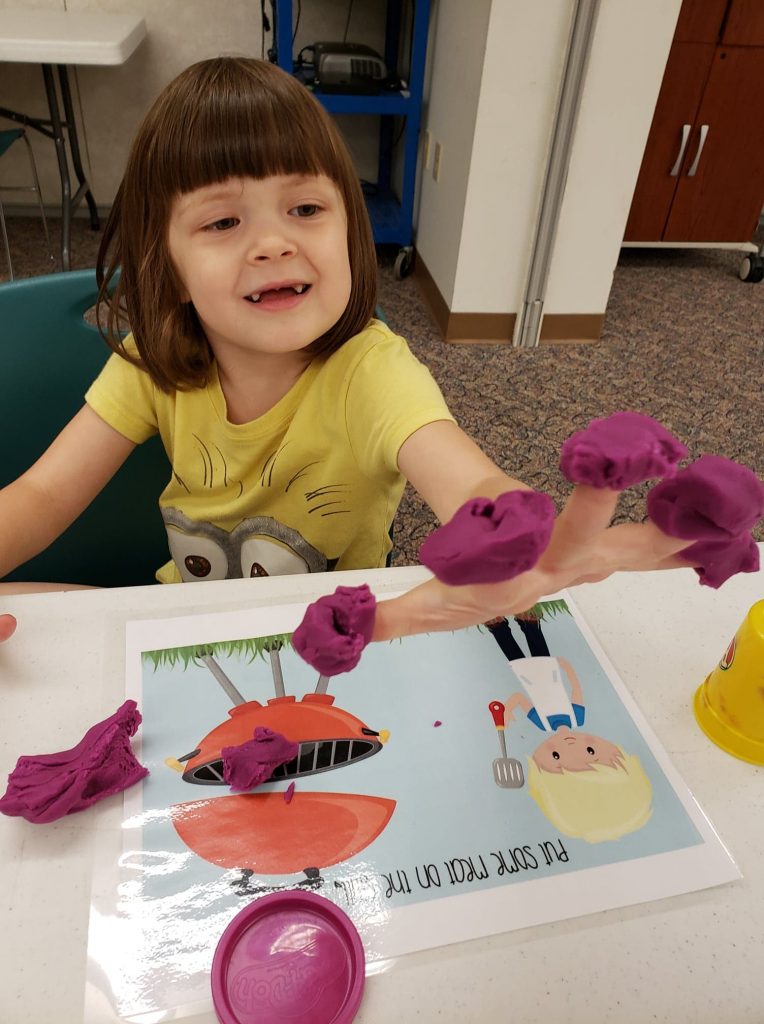 2018 SRP: 1,990 patrons at 114 programs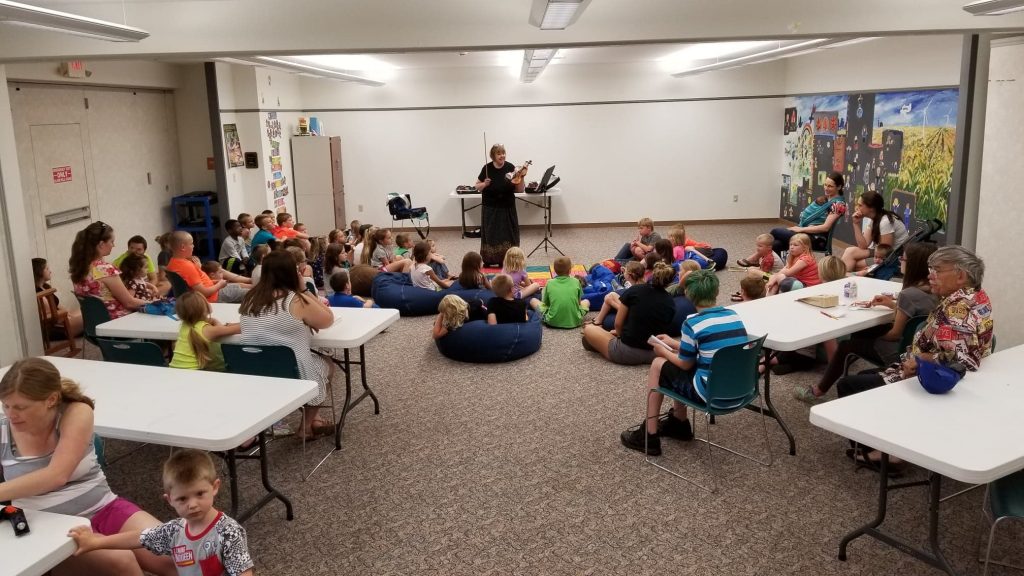 Karen Isaacs from the Lafayette Symphony Orchestra performed for 65 patrons on June 4!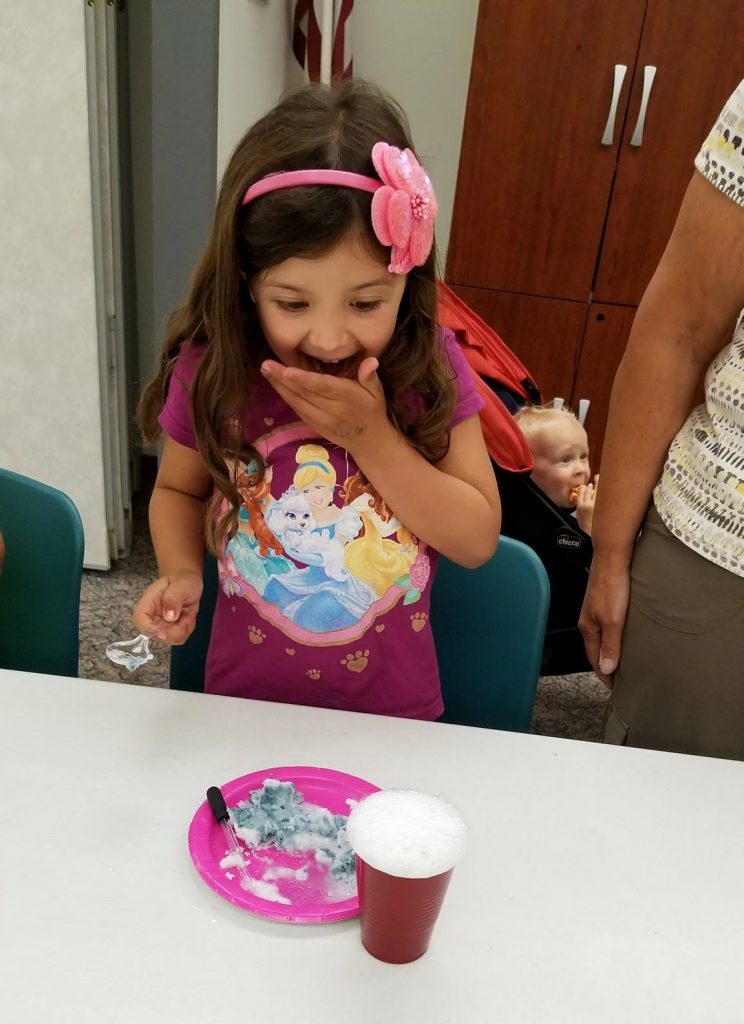 We learned about volcanoes throughout the summer.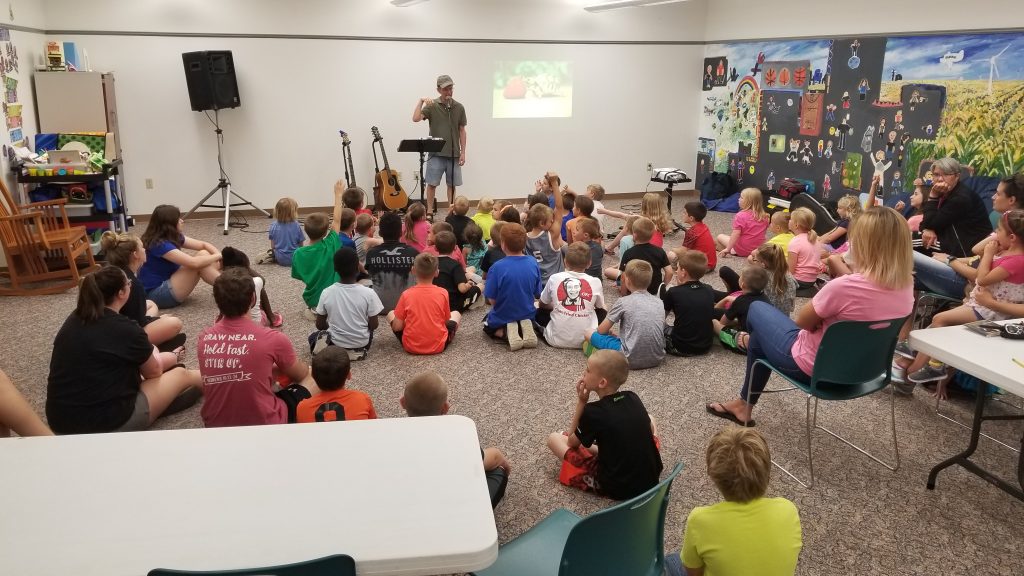 Tom Seiling performed for 64 patrons on June 7.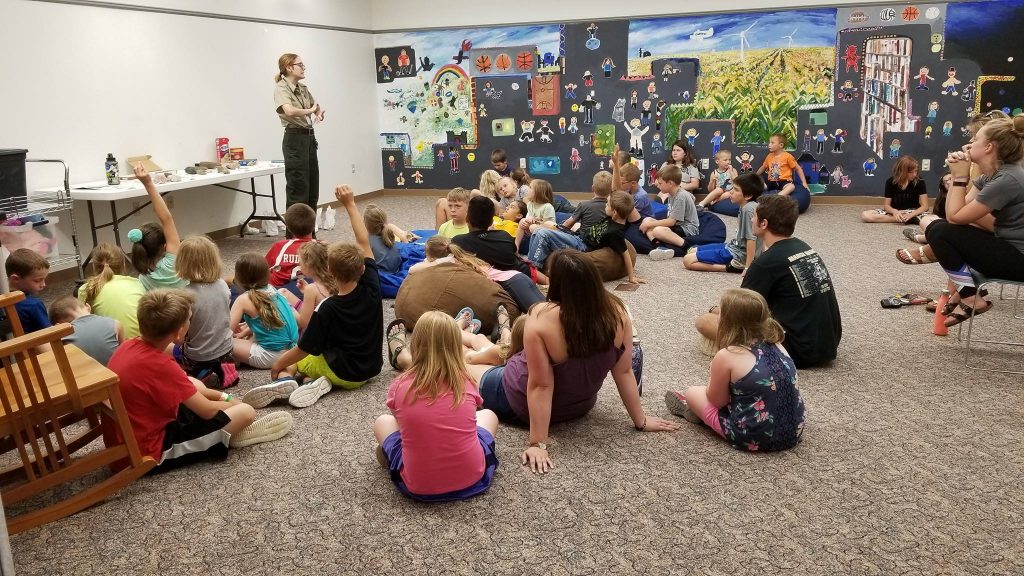 Jenna Parks from Prophetstown State Park visited us twice, on June 12 and June 19, to teach us about rocks!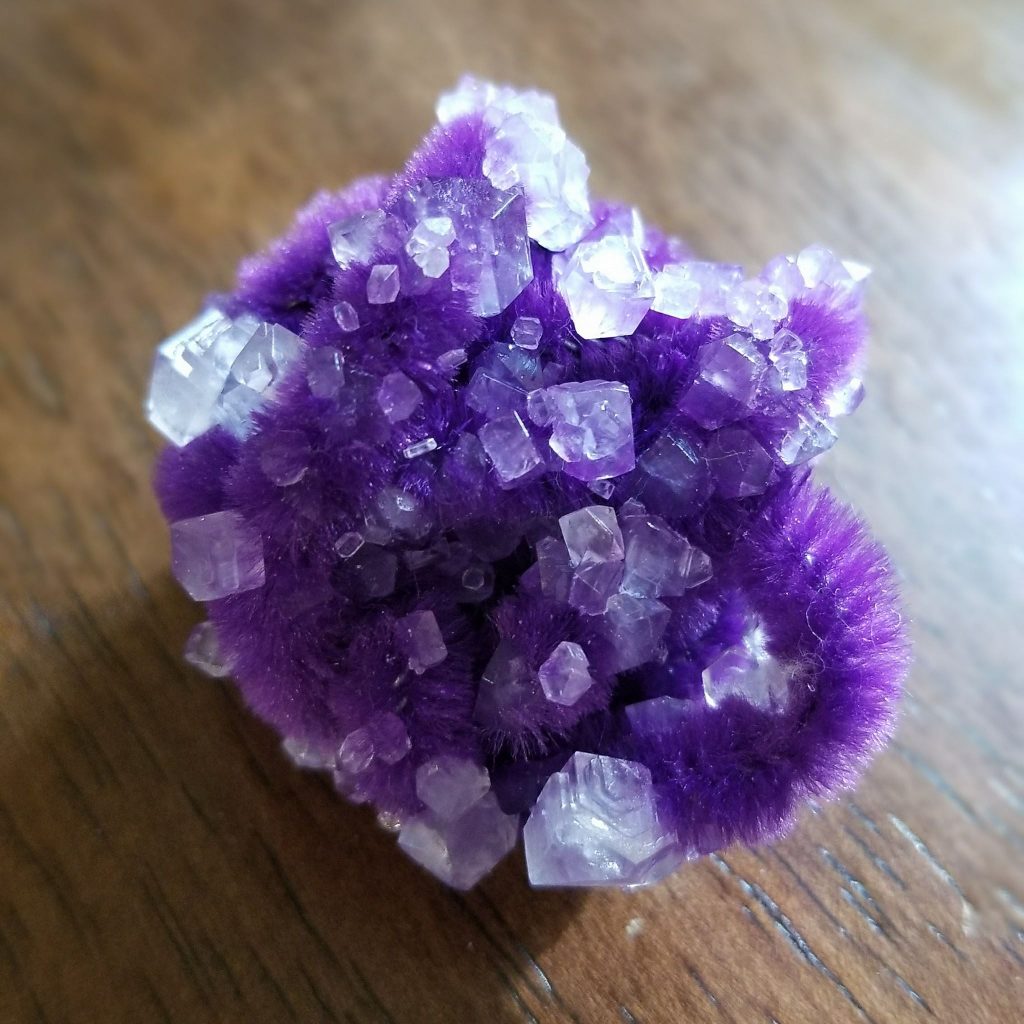 We grew borax crystals on pipe cleaners.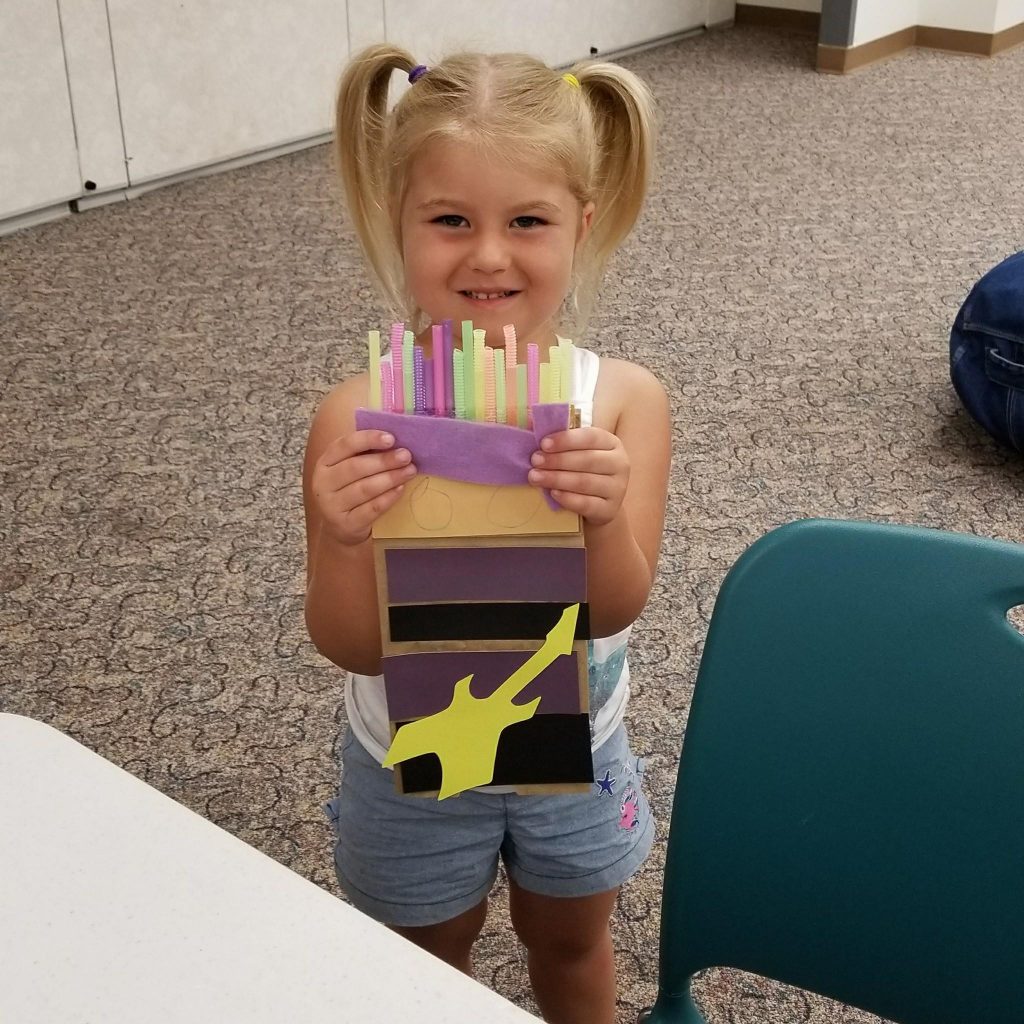 We made crafts that really rock at storytime all summer!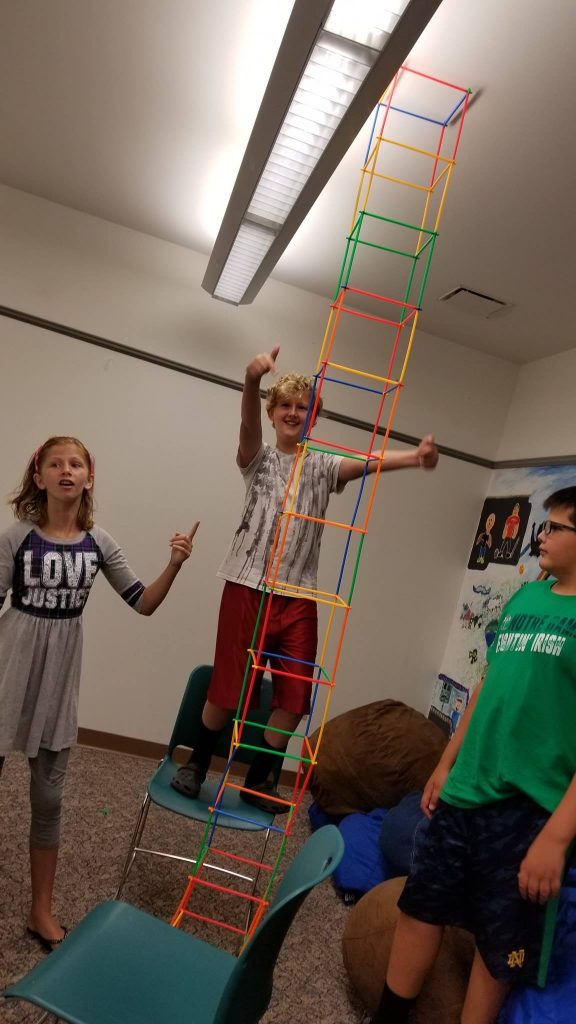 The Benton County Purdue Extension Office brought tech toys for us to discover and build with.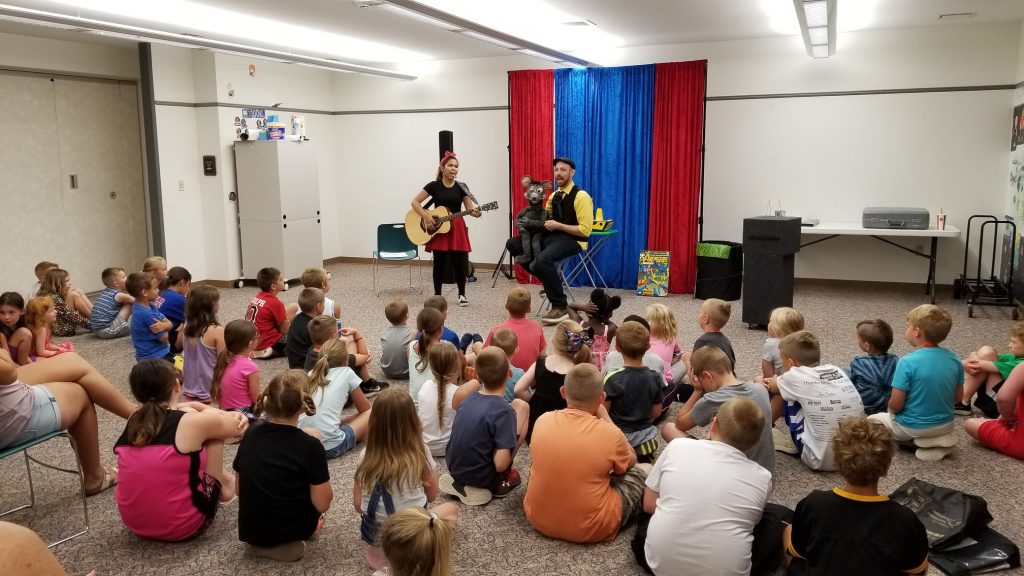 Magician Daniel Lusk and his musical assistant Miss Elle rocked the library on July 2 for 76 patrons.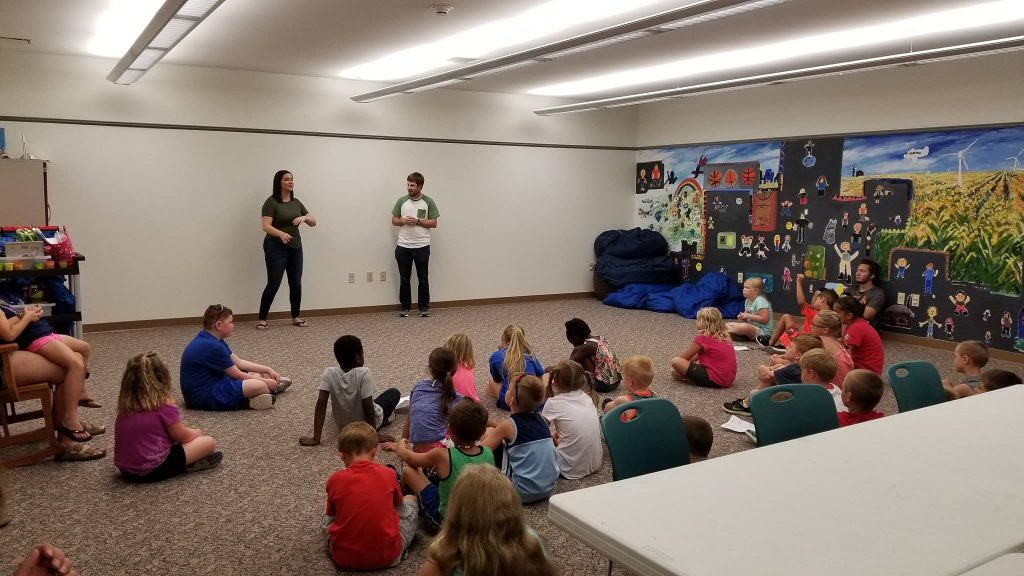 Shelby and Jared from z96.5 visited on July 9 and answered all of our questions about radio!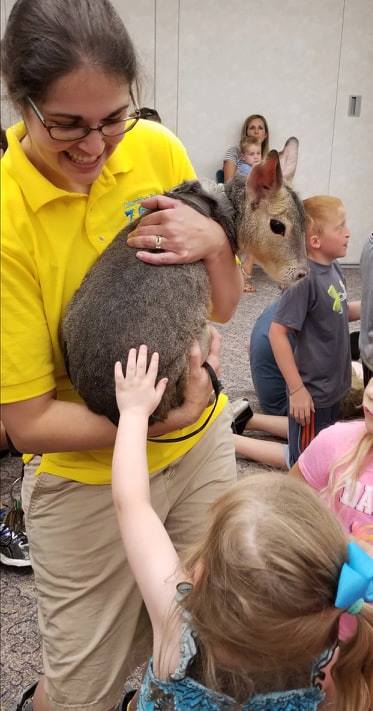 The Columbian Park Zoo shared rockin' animals with 100 patrons on July 10!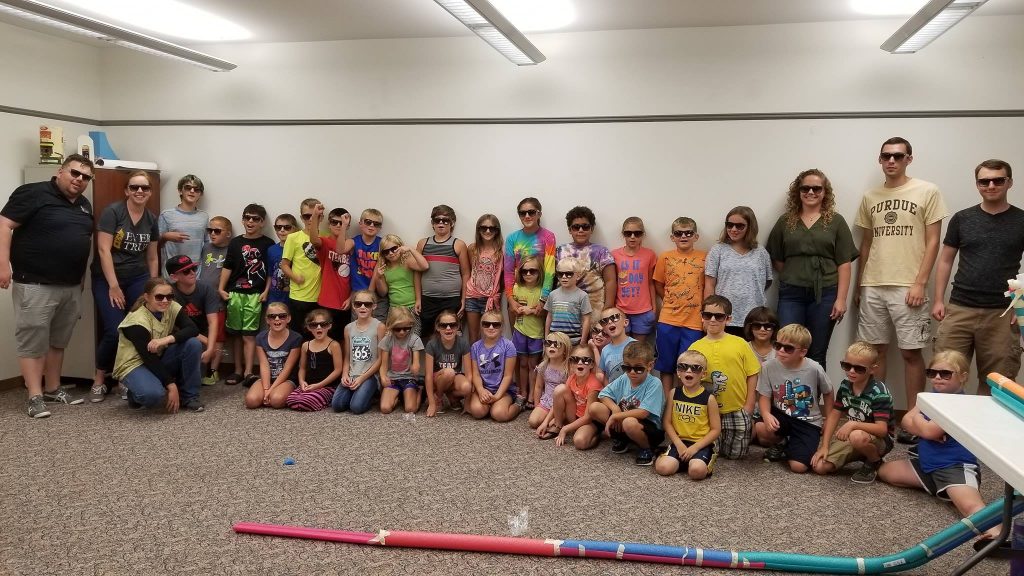 We made marble rollercoasters with Purdue's Mechanical Engineering Department on July 16.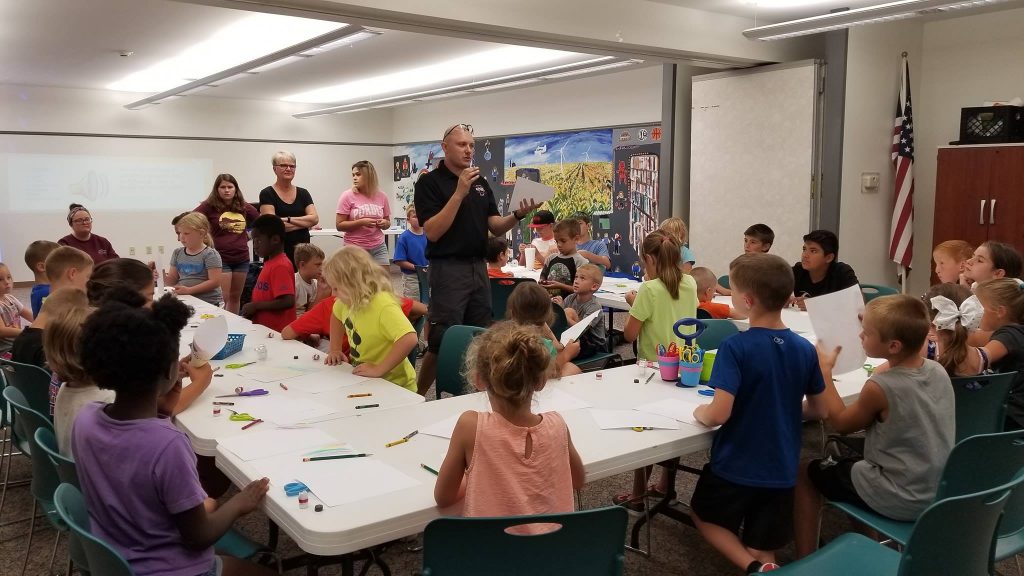 Mr. Weitlauf taught us how to make a speaker from paper and wire.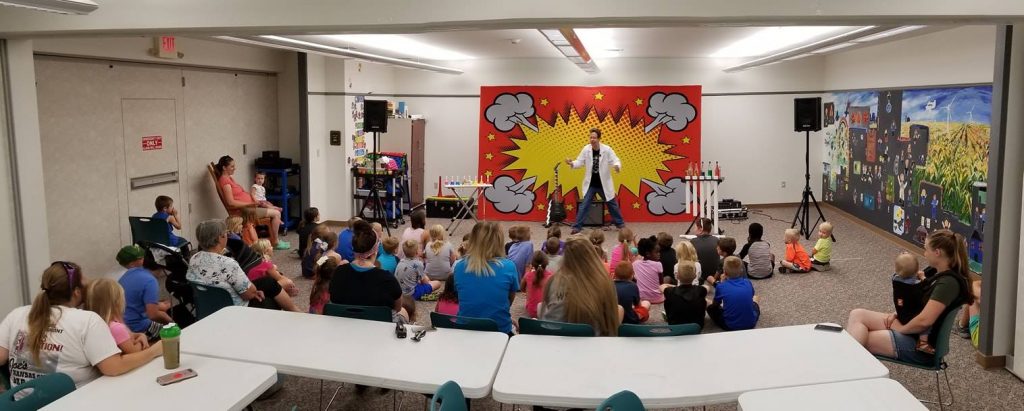 Professor Steve taught 81 patrons the science of sound on July 25.

Sheltered Reality visited the community for the third time on July 27.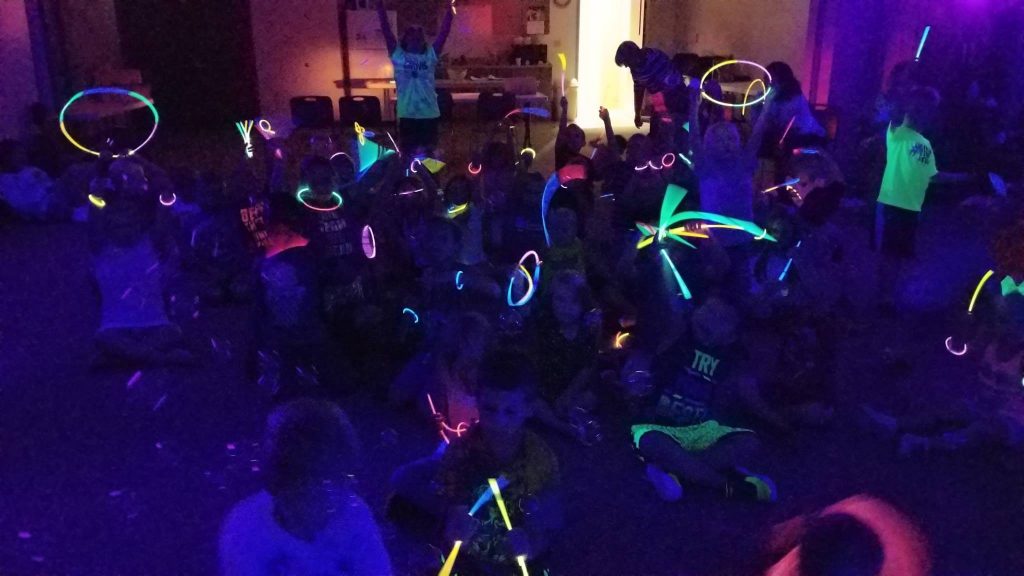 50 kids, 13 parents, and 3 teens came to our storytime neon dance party on July 31!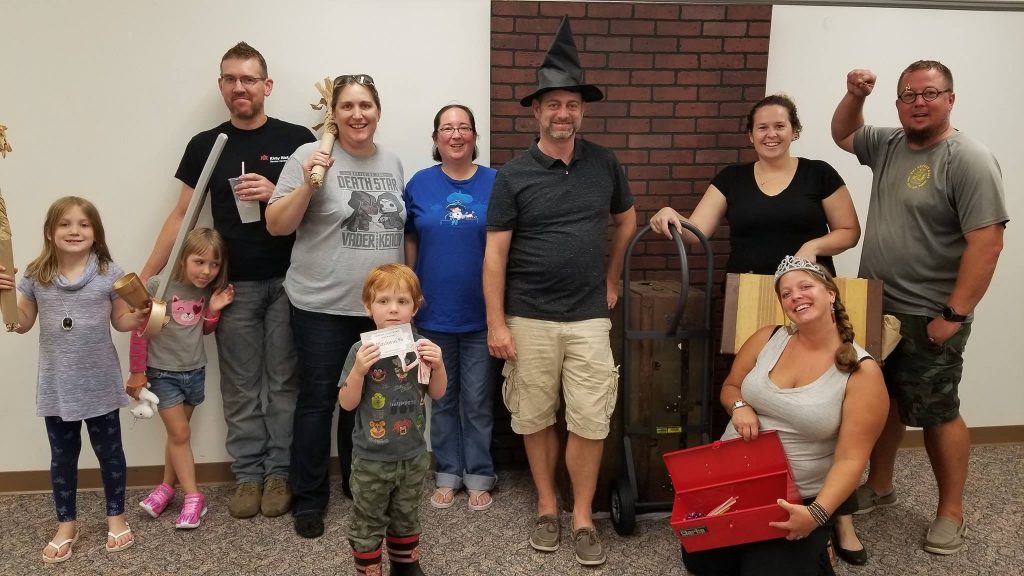 40 patrons participated in our Harry Potter-themed escape room on July 31!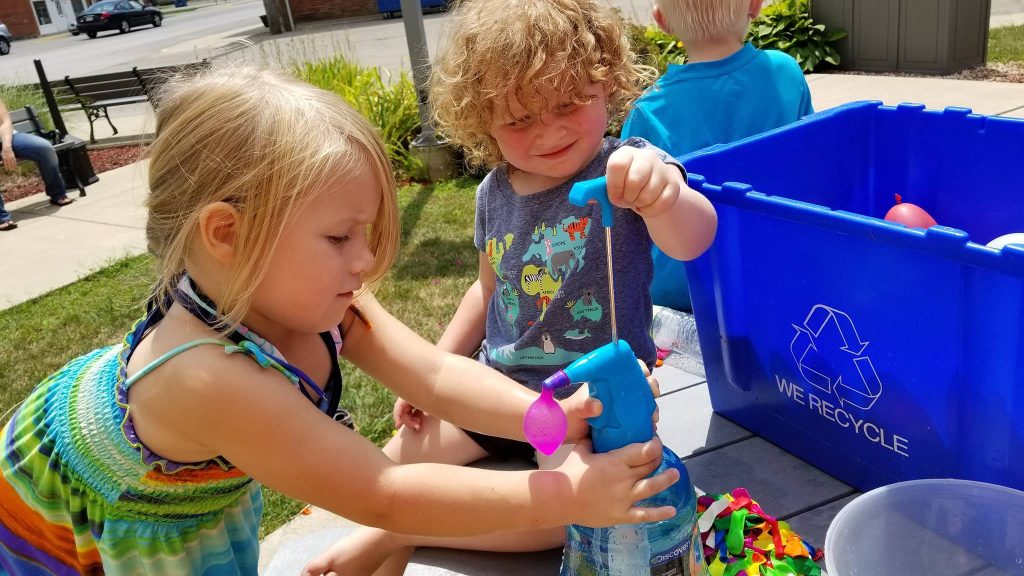 We wrapped up the summer with a water balloon fight in the park, and an after-hours Fortnite party.
Street Festival Crafts
47 people visited our craft table during the Street Festival on Saturday, August 4, 2018. We painted rocks, and made musical crafts.
July Pinterest Night
13 adults painted rocks on July 26, 2018
June Pinterest Night
8 adults and one teen made teacup fairy gardens on June 28, 2018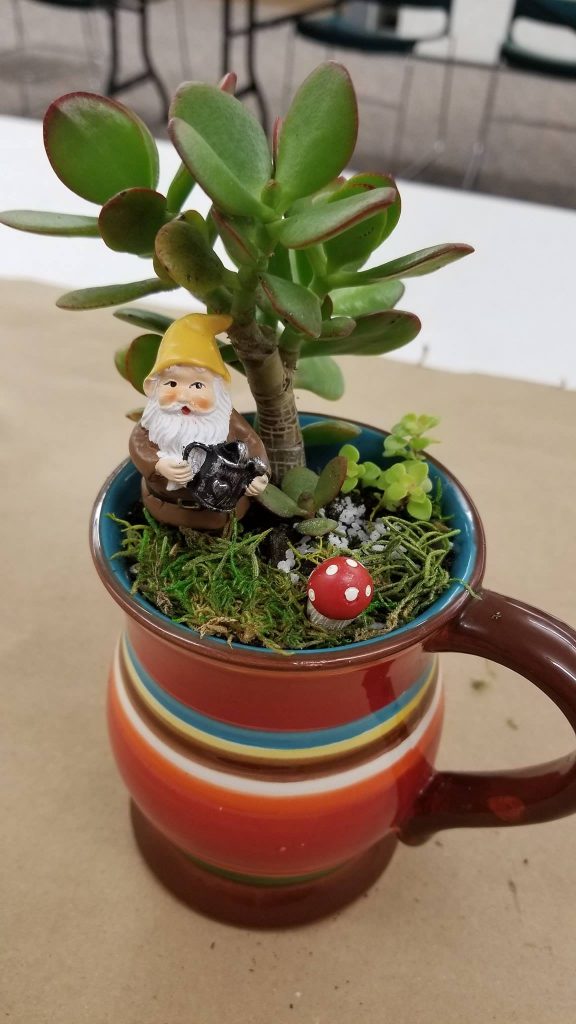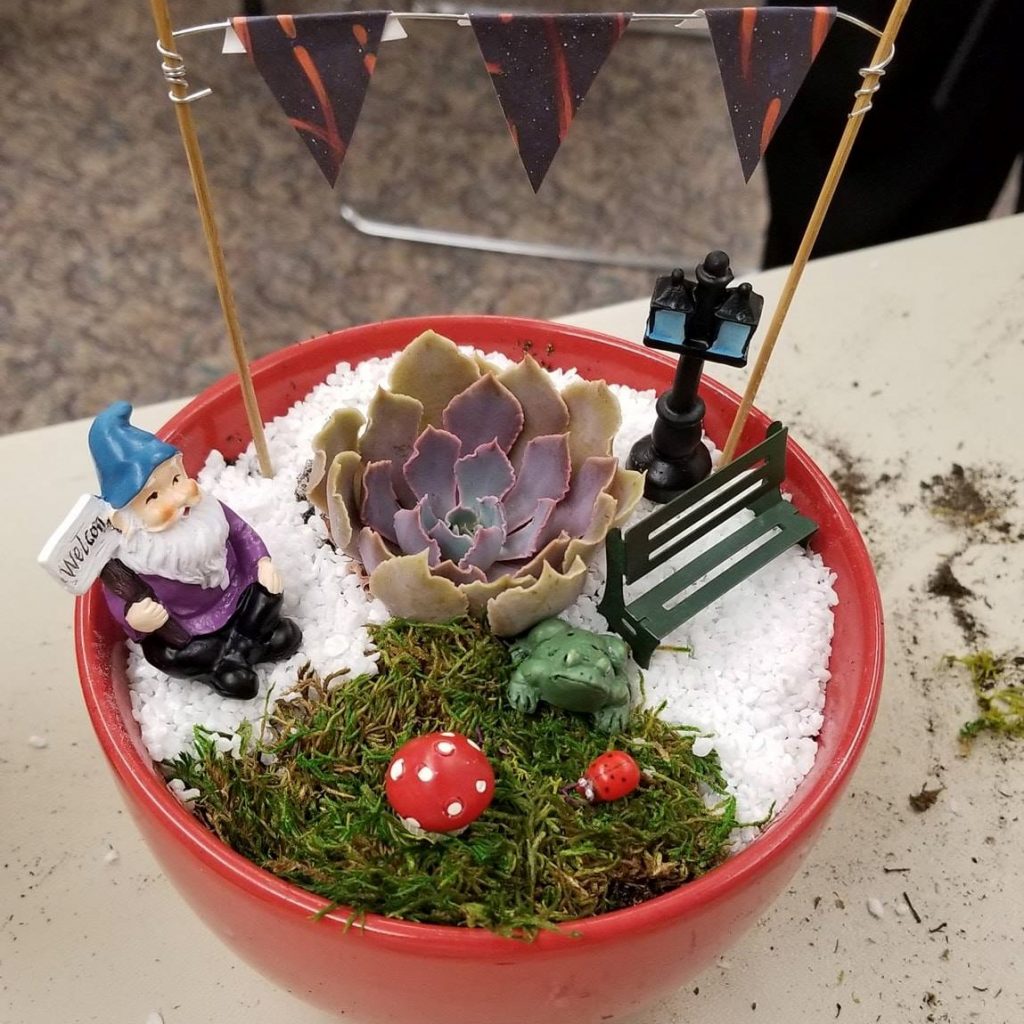 May Storytimes
18 adults and 25 kiddos attended MGOL in May, and 21 adults and 54 children attended Preschool Storytime.
May Pinterest Night
We had 14 lovely ladies make these amazing crafts at Pinterest Night on May 31!
Fancy Nancy Tea Party
24 adults, 1 teen, and 24 children participated in our 5th annual Fancy Nancy Tea Party on Saturday, May 12! We had a blast dancing, making fancy headbands, decorating cookies, and drinking tea & punch.
Star Wars Escape Room
9 adults and 7 children participated in the Star Wars Escape Room on Wednesday, May 2, 2018.
April Preschool Storytime
24 adults and 52 children attended Preschool Storytime in April
April MGOL
25 adults and 33 children attended MGOL in April
April Pinterest Night
9 people made diy clay bowls on Thursday, April 26
Sheltered Reality at OES
Students and teachers at Otterbein Elementary enjoyed a special treat on Friday, April 13. The Otterbein Public Library sponsored Sheltered Reality, a choreographed drum line that focuses on empowerment and anti-bullying, to perform as a kickoff to the 2018 Summer Reading Program. This year's theme is "Libraries Rock!" and we'll be exploring music and sound all summer long. Sign up starts May 21. The SRP opens on June 4 with a performance by the Lafayette Symphony Orchestra at 1pm.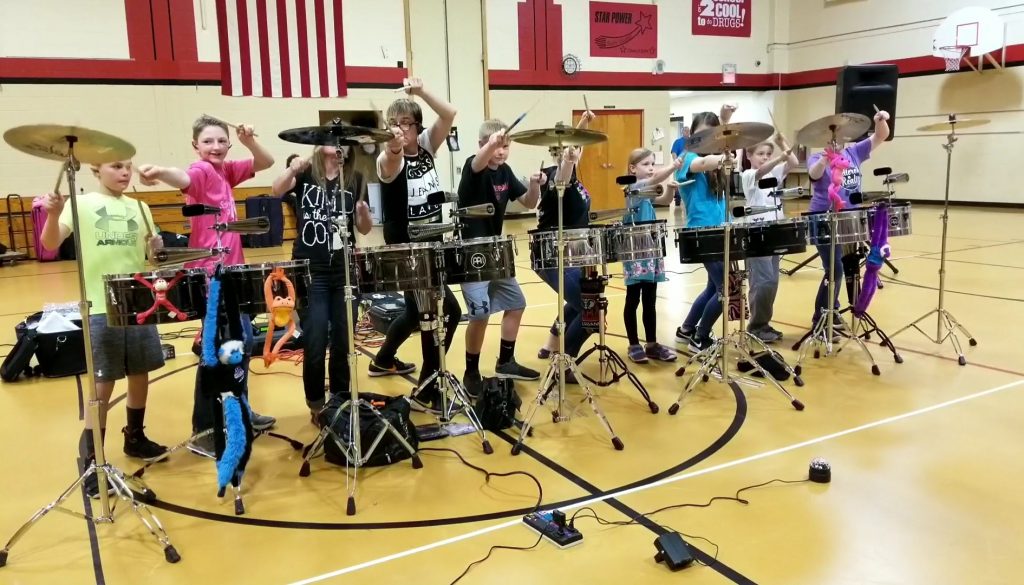 March Pinterest Night
18 people joined us on Thursday, March 29 to make these adorable felt flowers and bunnies!
Minecraft Escape Room
You guys are amazing! 80 people participated in six escape rooms on Wednesday, March 28th!
March Preschool Storytime
Check out the video on our Facebook page (https://goo.gl/WFNfZ4) from Humpty Dumpty storytime!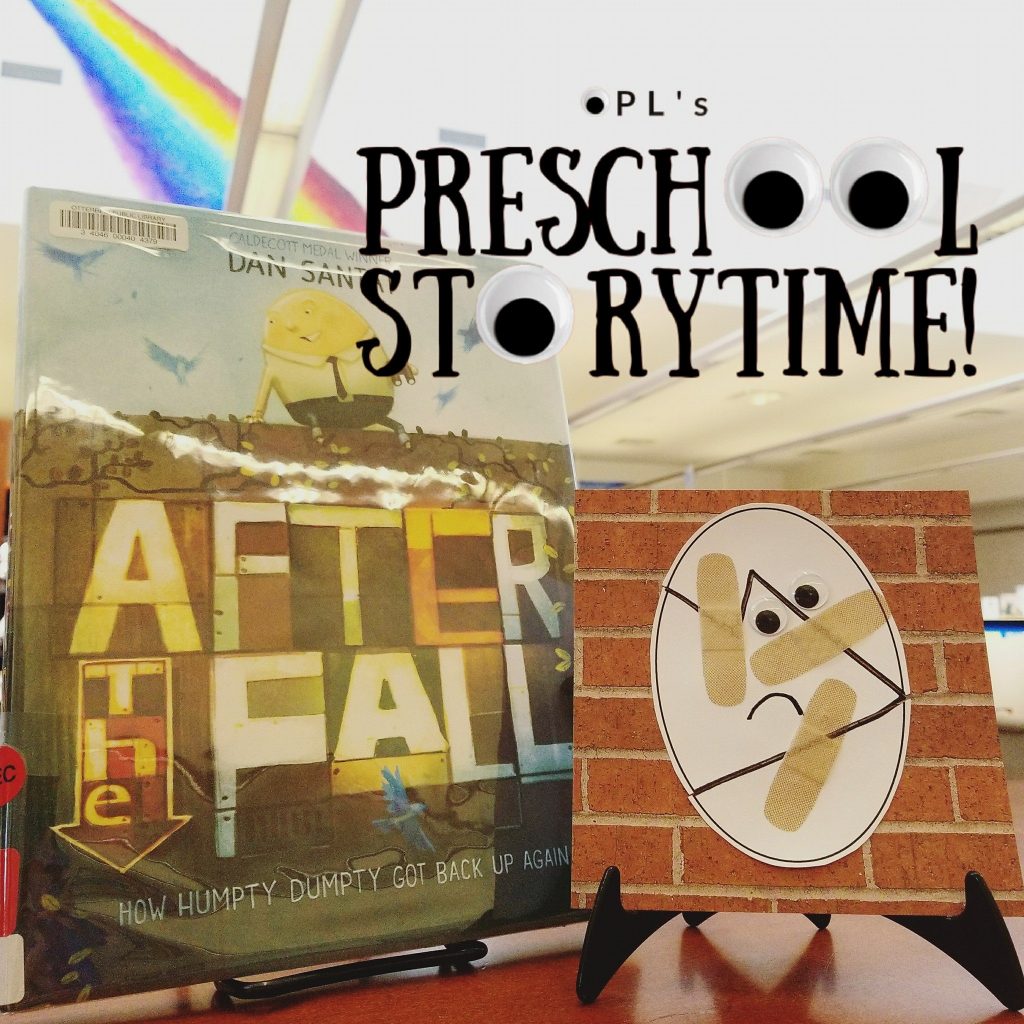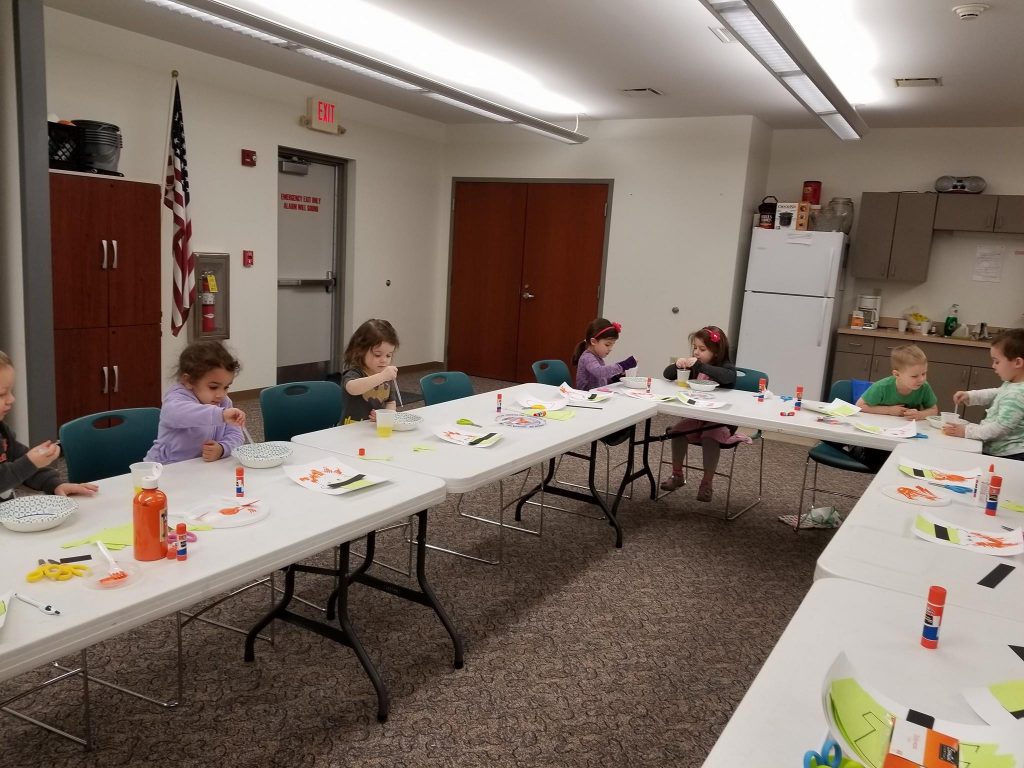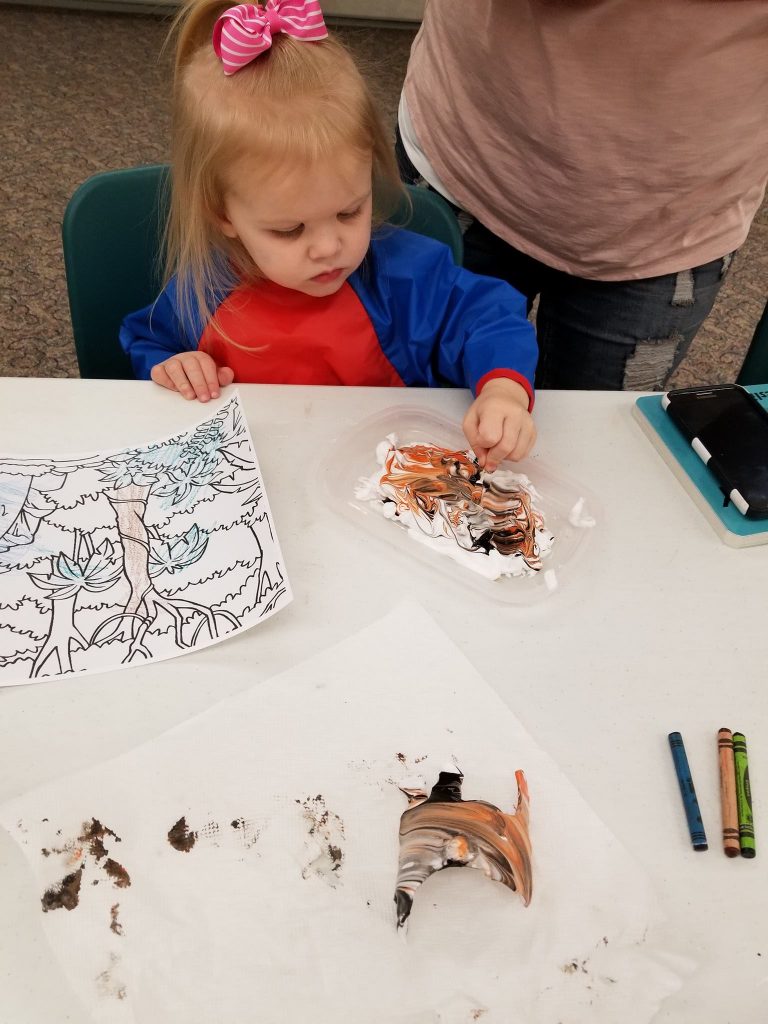 March MGOL
February Pinterest Night
February 2018 Mother Goose on the Loose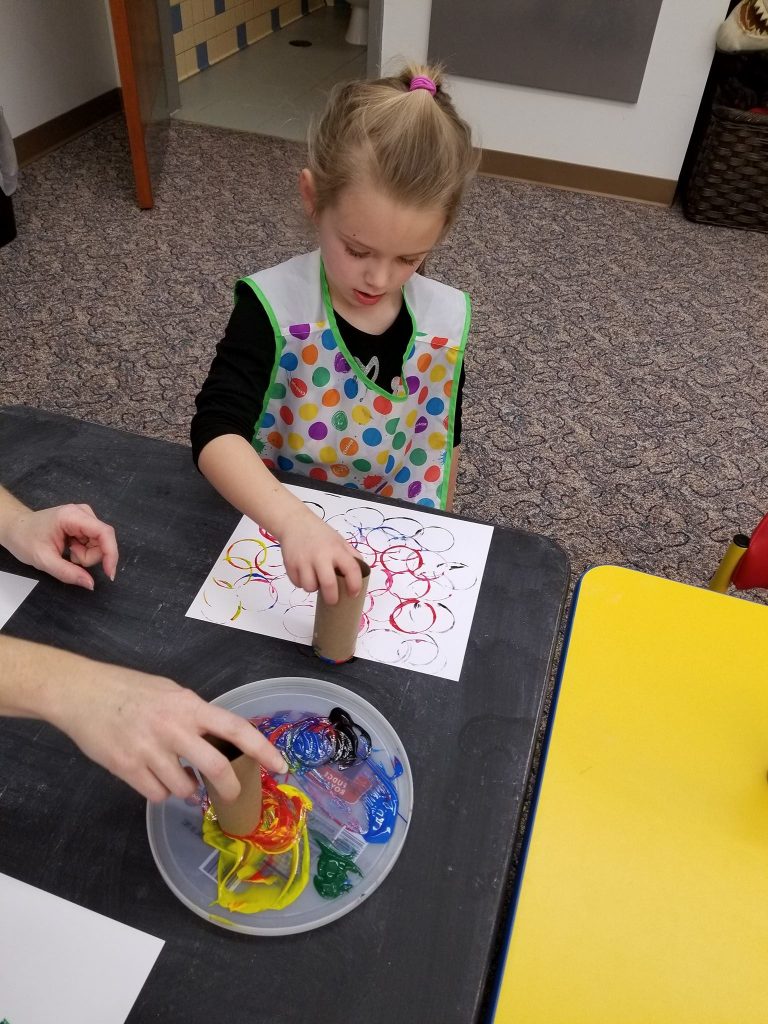 February 2018 Preschool Storytime
On February 6, 5 kiddos read "Pete the Cat and His Four Groovy Buttons," and completed a button counting activity.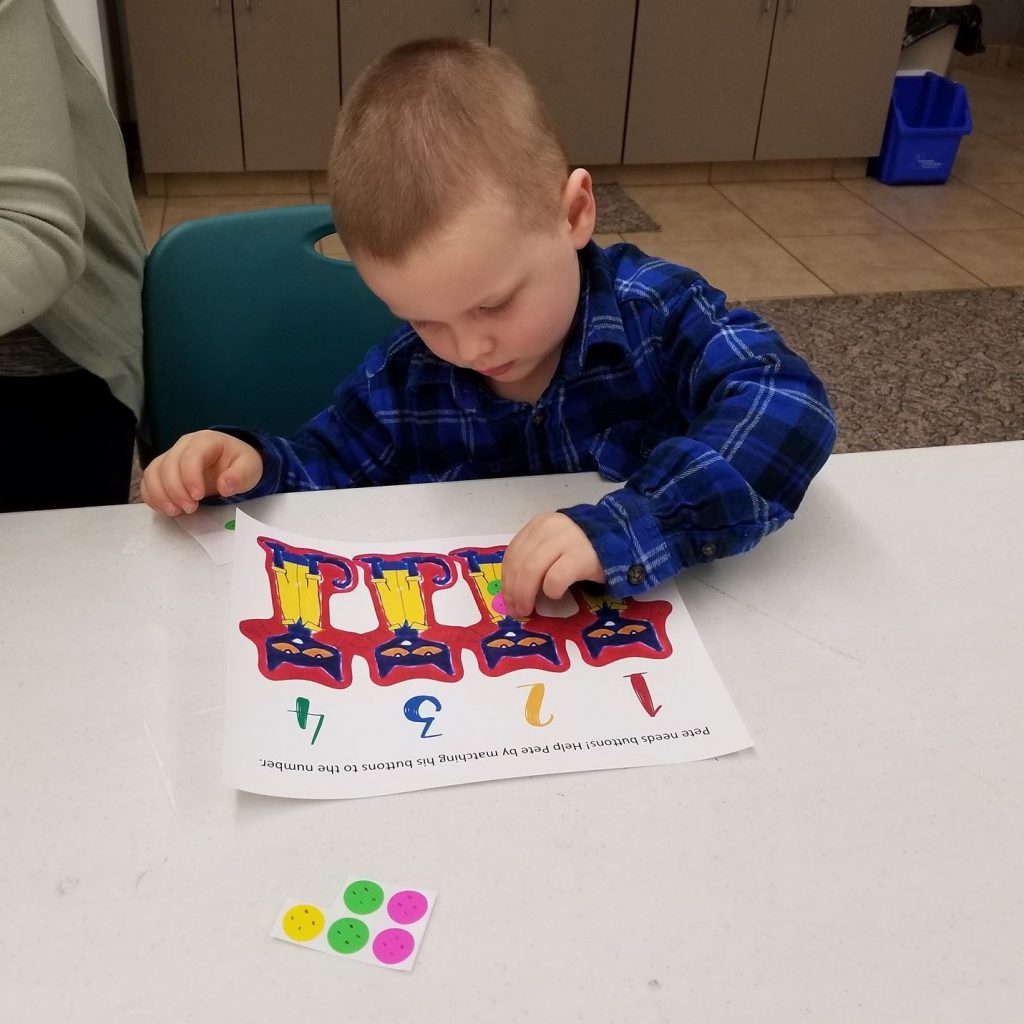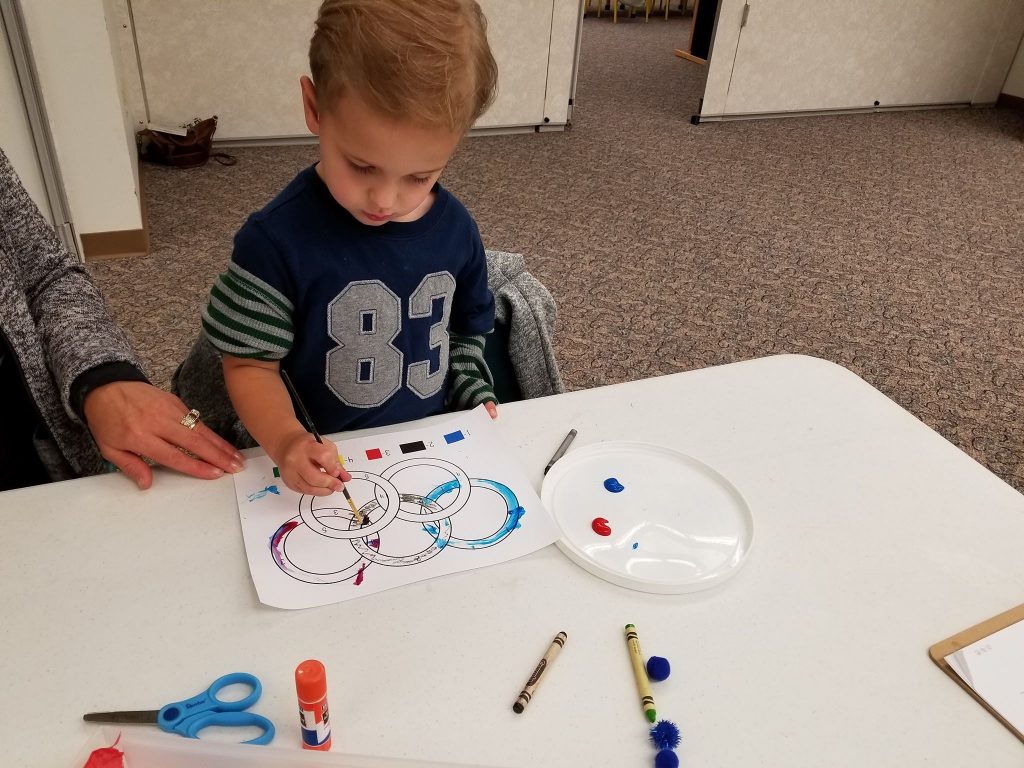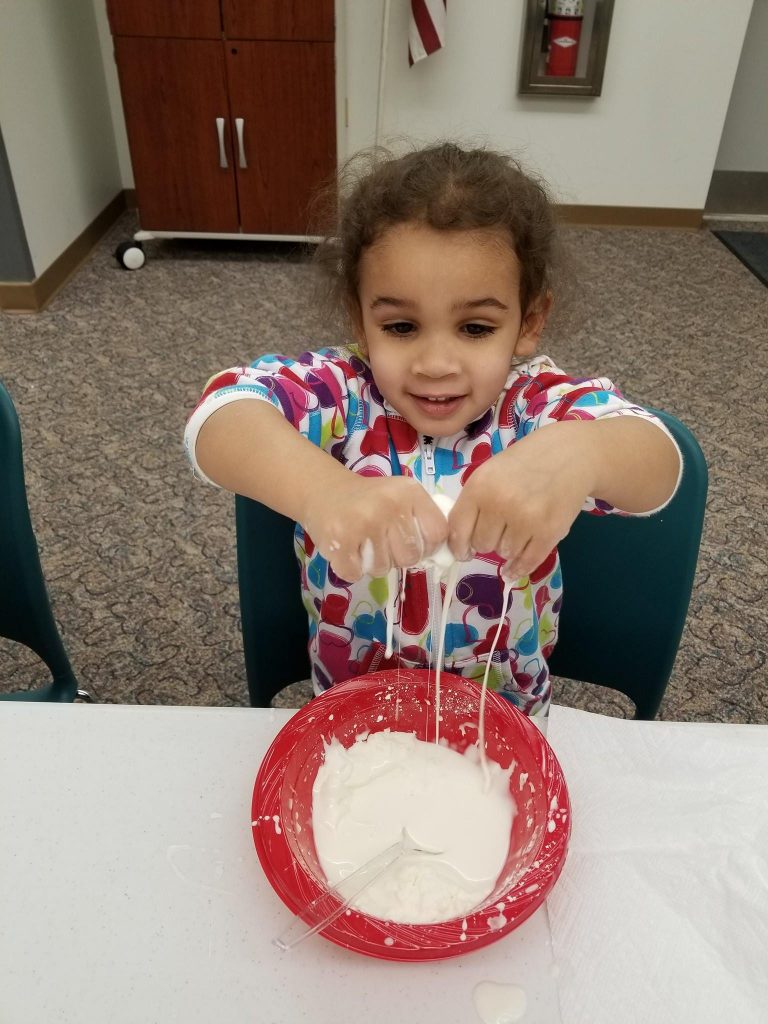 January 2018 Pinterest Night
On Thursday, January 26, 12 patrons made Valentine's Day decor on canvases with buttons, book pages, and cardstock.
January 2018 MGOL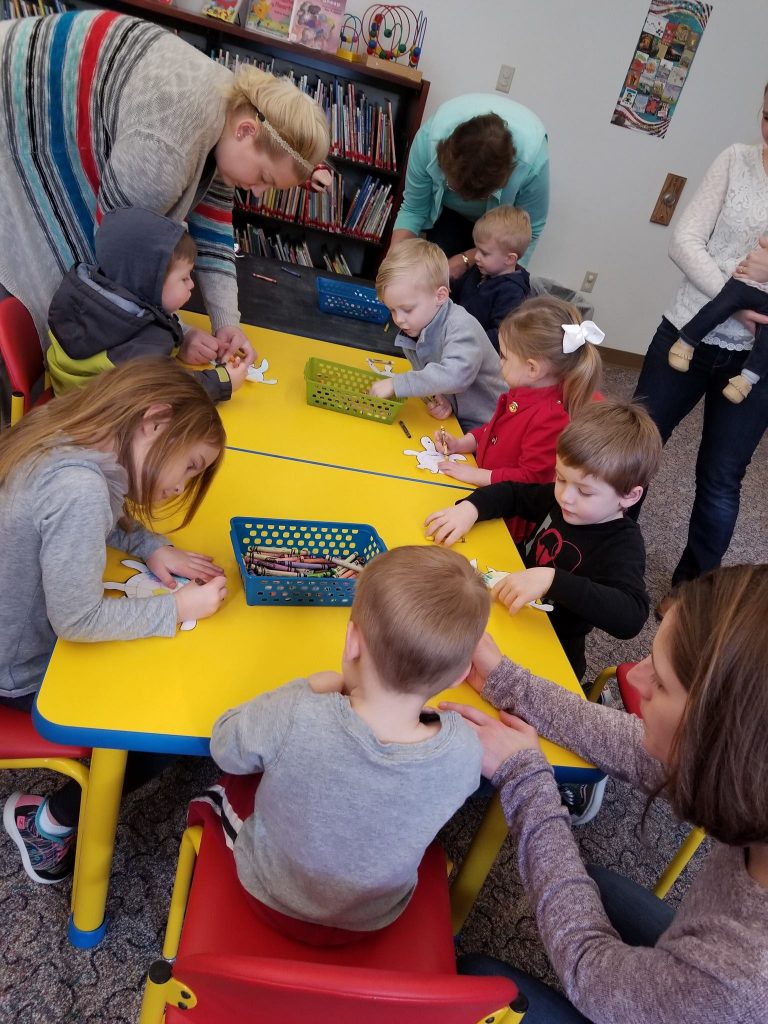 January 2018 Homeschool Book Club
Tristan, Hailey, and Kaitlyn met at Otterbein Public Library on January 22nd for Homeschool Book Club discussion. They read "Wonder" by RJ Palacio, "The 5th Wave" by Rick Yancey, and "Graceling" by Kristin Cashore, and also received Wonder-inspired paintings.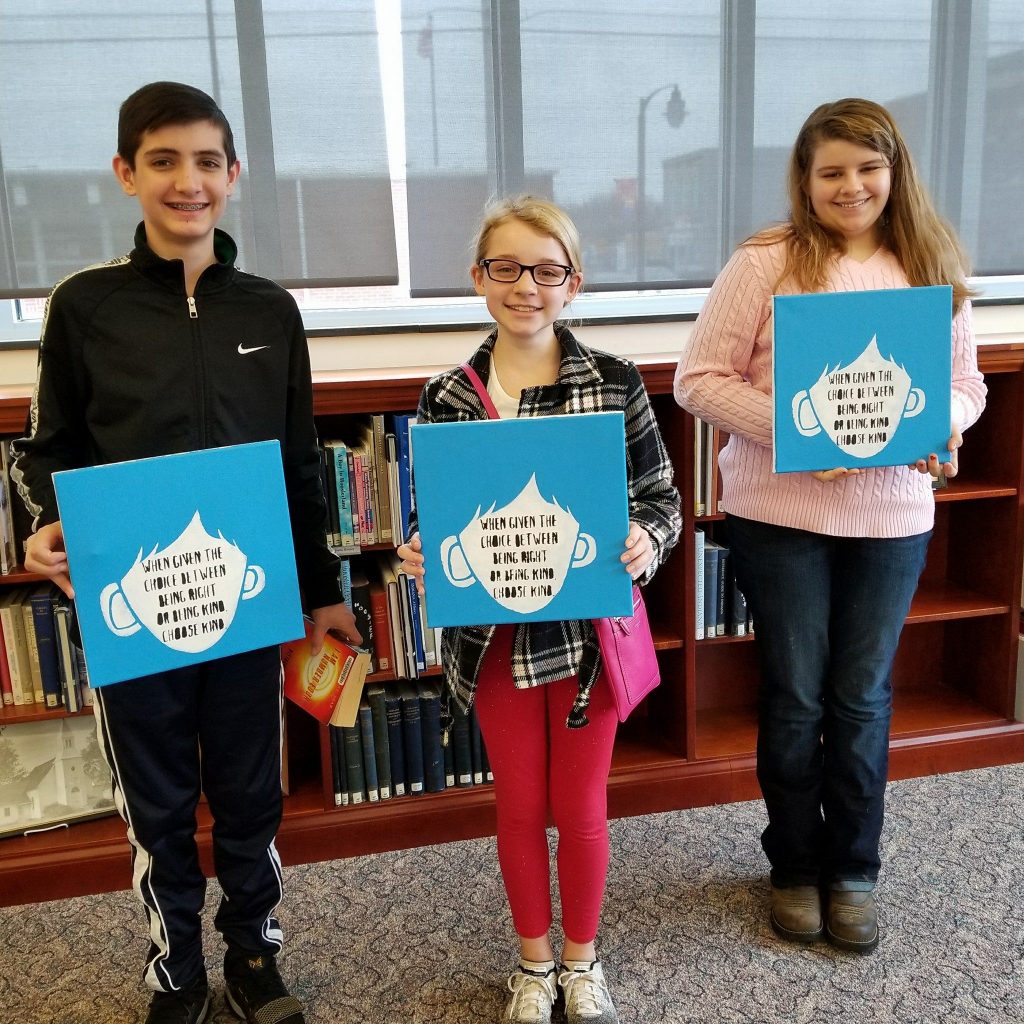 January 2018 Preschool Storytime
Our new Preschool Storytime kicked off on Tuesday, January 9th with 11 kiddos in attendance! We read "Also an Octopus," sang Octopus's Garden while Miss Addie played the ukulele, learned octopus facts, and made an octopus craft!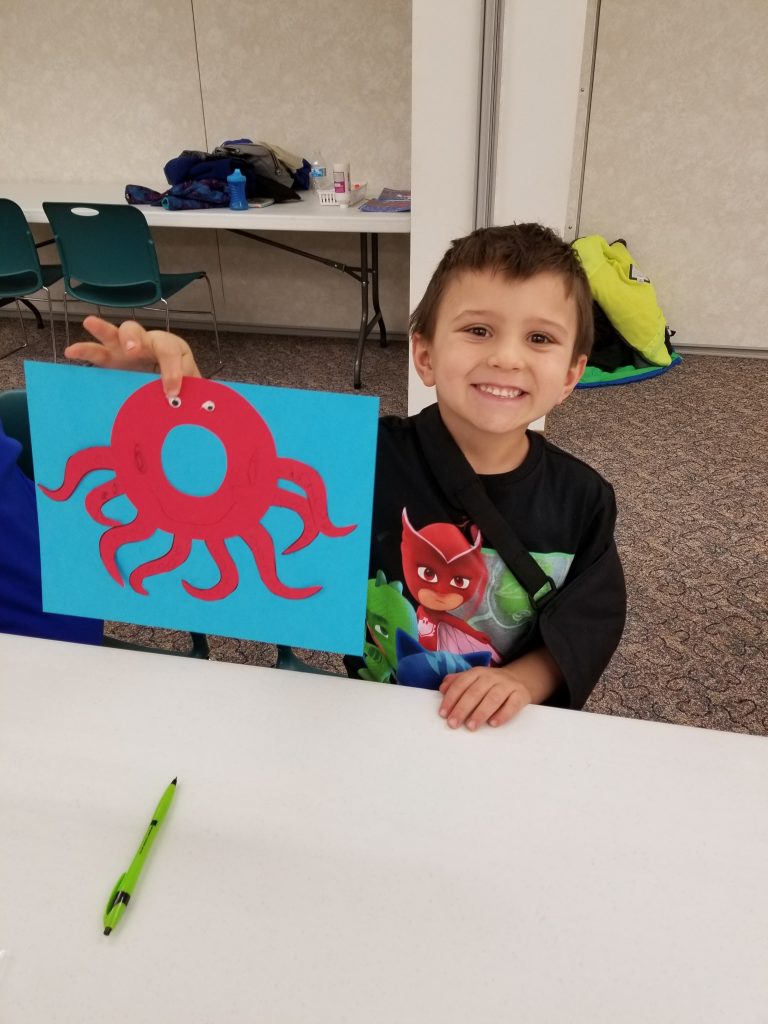 On January 16th, 8 kids at Preschool Storytime learned about sharks and made a crayon-resist shark watercolor painting.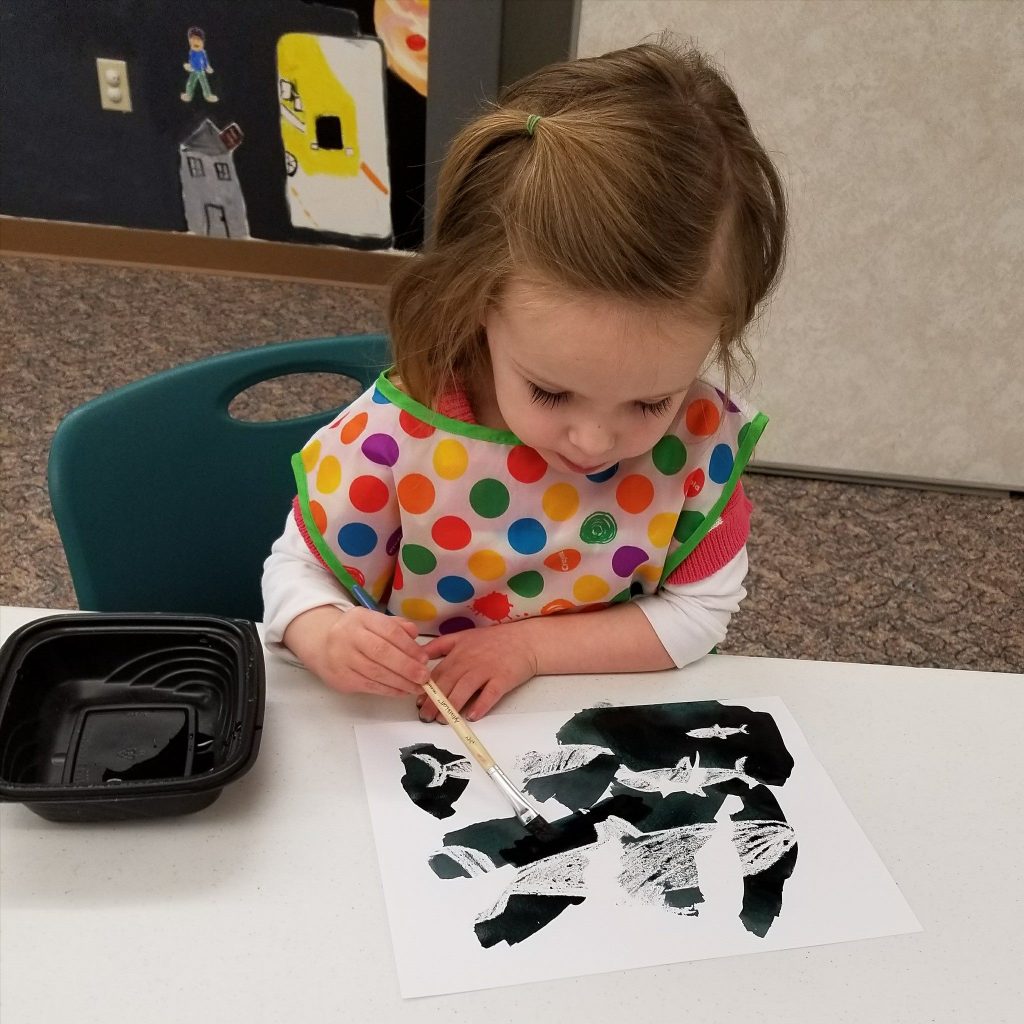 On January 23, 12 kids at Preschool Storytime read "A Whale in the Bathtub" by Kylie Westaway, learned whale facts, sang Raffi's "Baby Beluga" while Miss Addie played the ukulele, then made a whale puppet.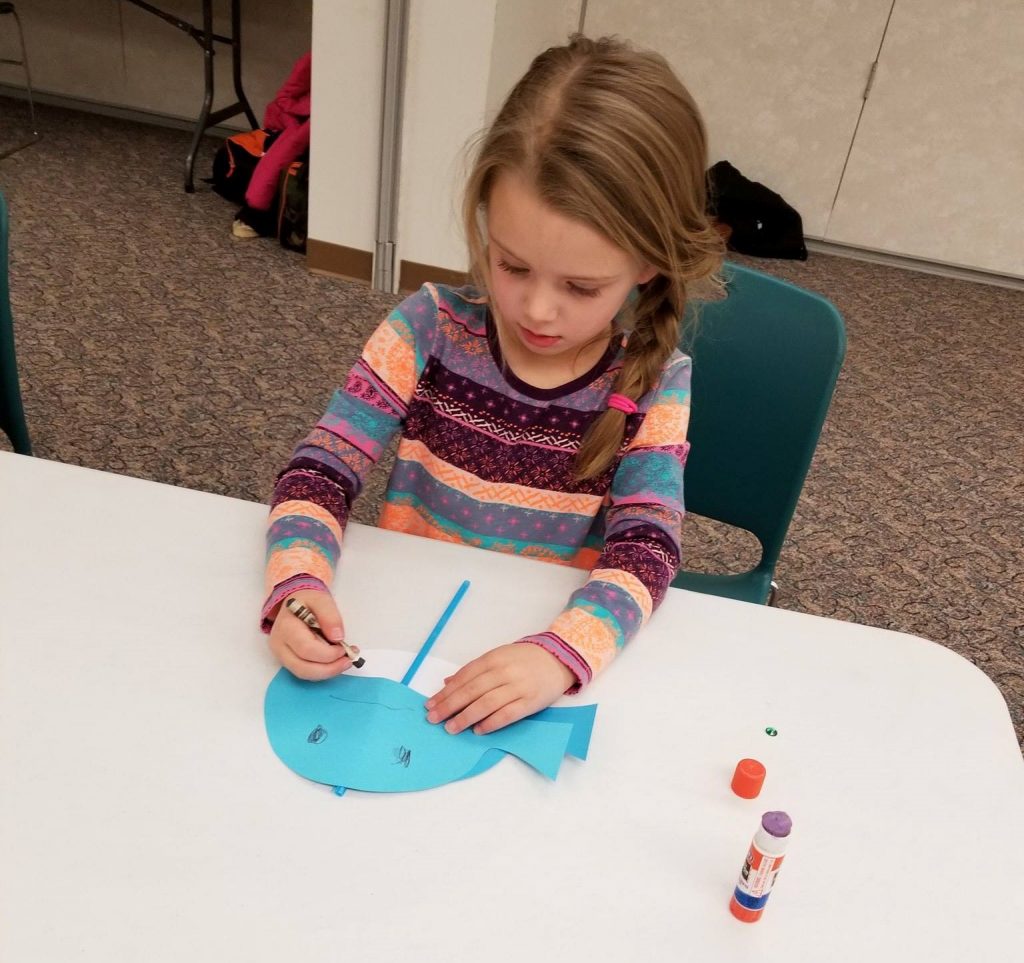 On January 30, 12 kids read "The Three Ninja Pigs" by Corey Rosen Schwartz, made three little pigs craft, and experimented with straws, popsicle sticks, and legos.
December 2017 Pinterest Night
On December 28, 12 people painted barn quilts on canvas at Pinterest Night!
December 2017 MGOL
Miss Addie played the ukulele, and we sang and danced to winter & Christmas songs at storytime! We made melted snowman, Christmas ornaments, made it snow with the parachute, and decorated Christmas cookies.
November 2017  Pinterest Night: Christmas Decor
On November 30th we had 25 people making amazing Christmas decorations!
November 2017 MGOL
We made turkeys and painted Indian corn with LEGOS at storytime this month!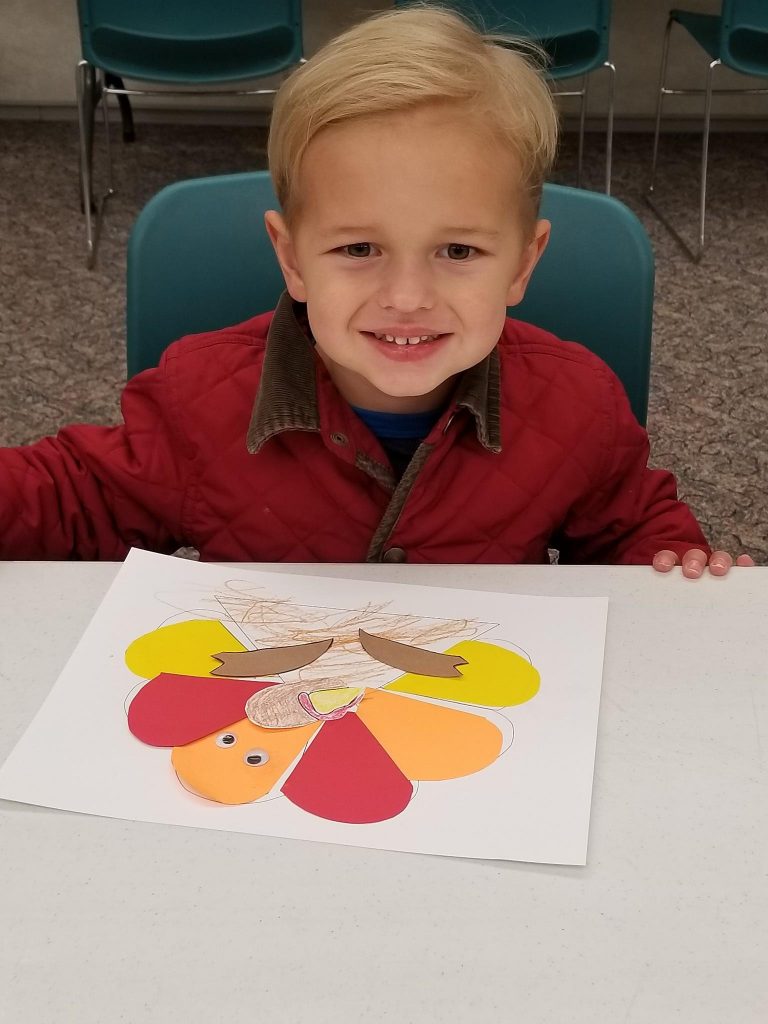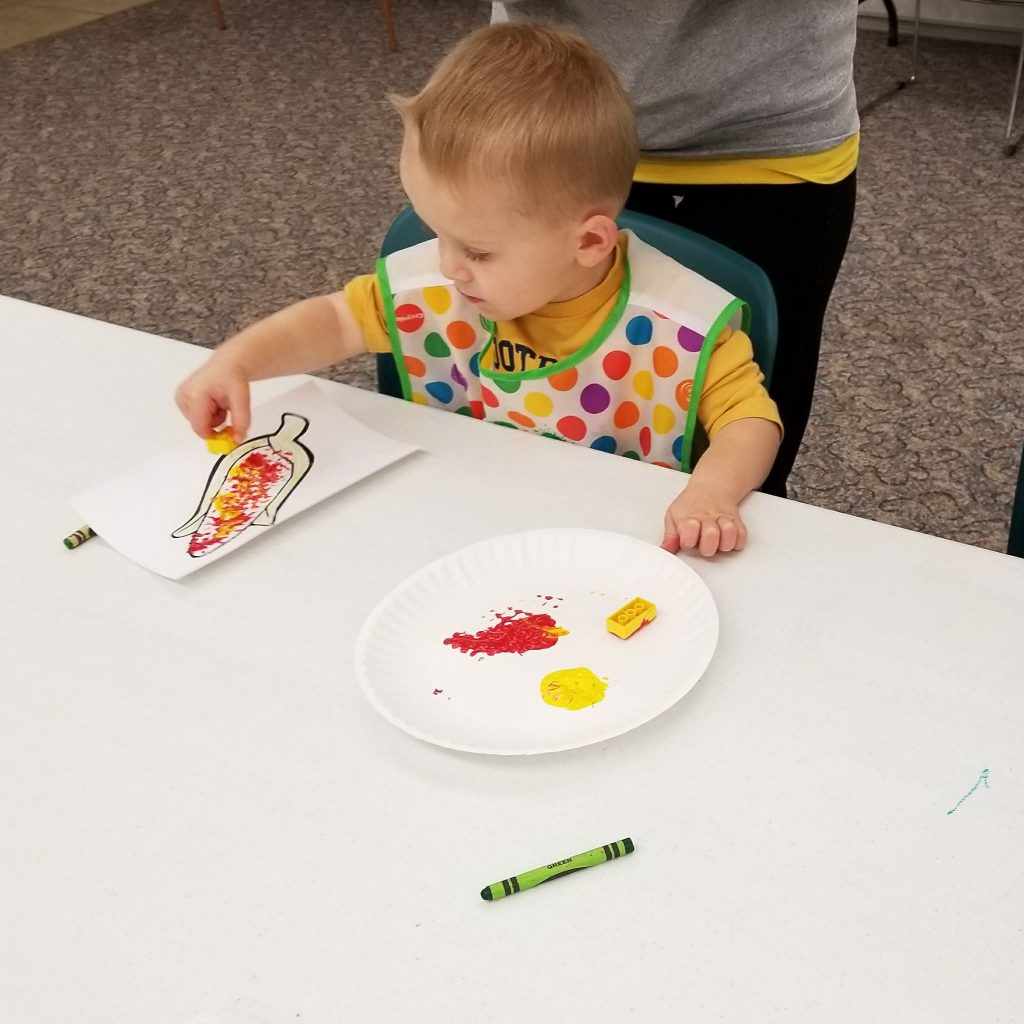 October 2017 MGOL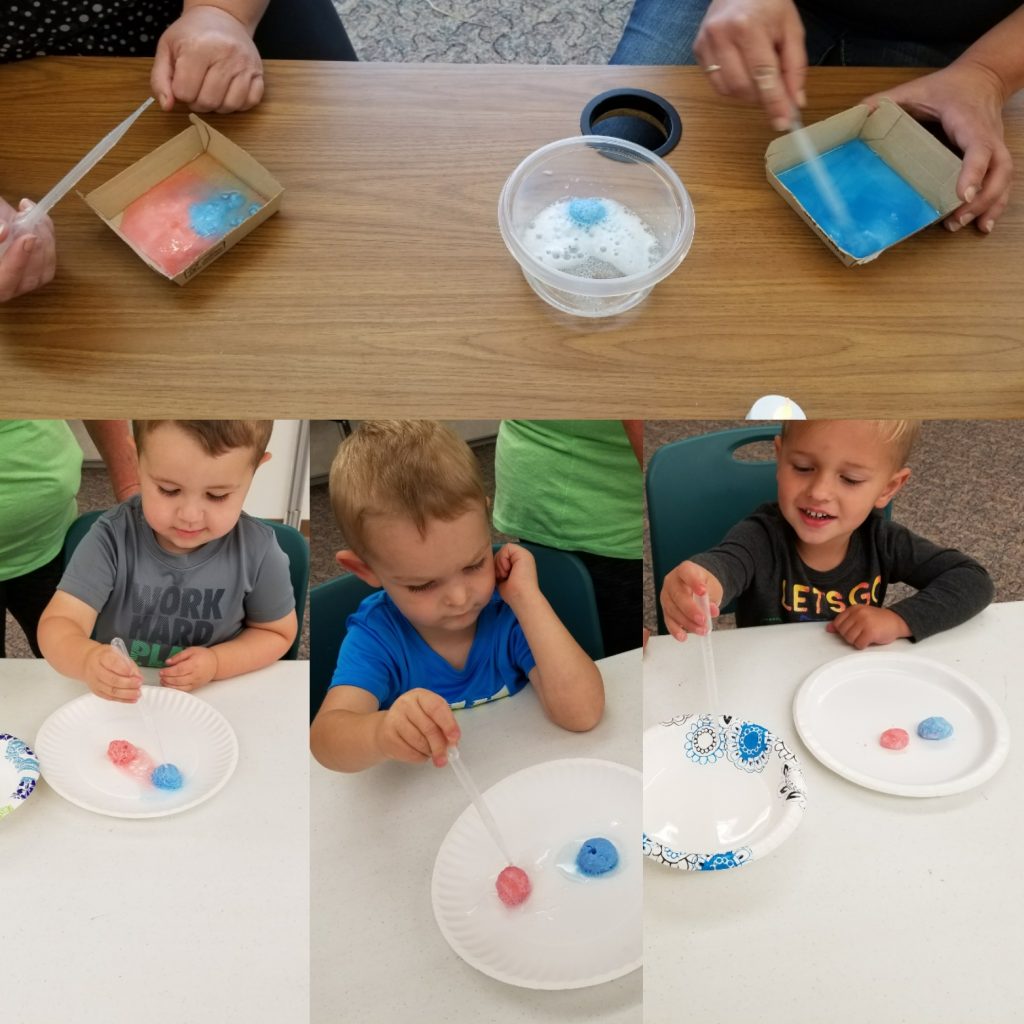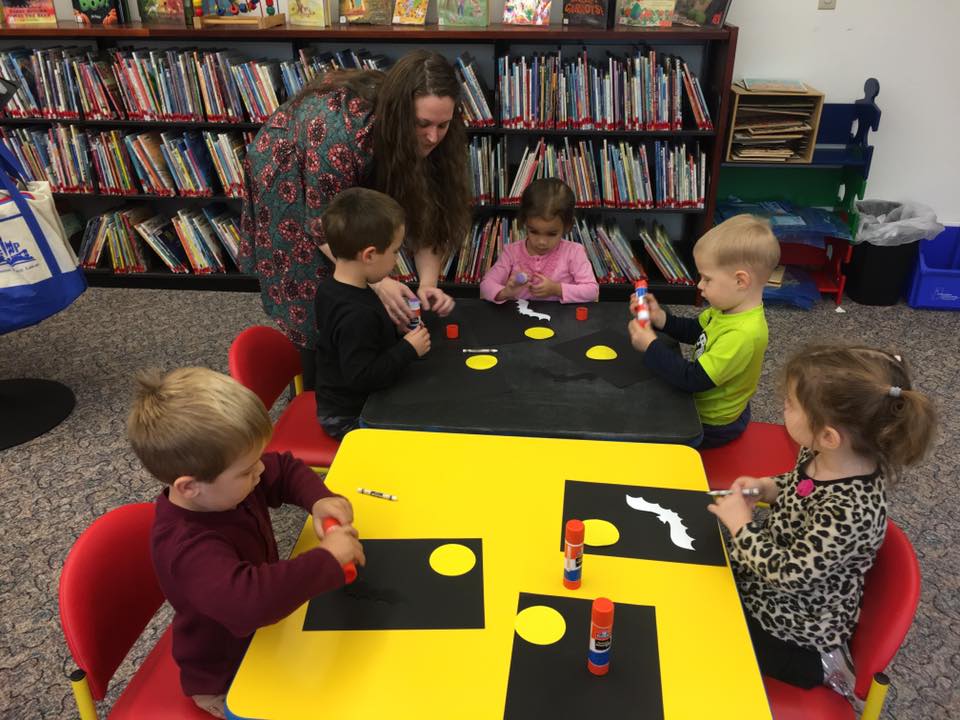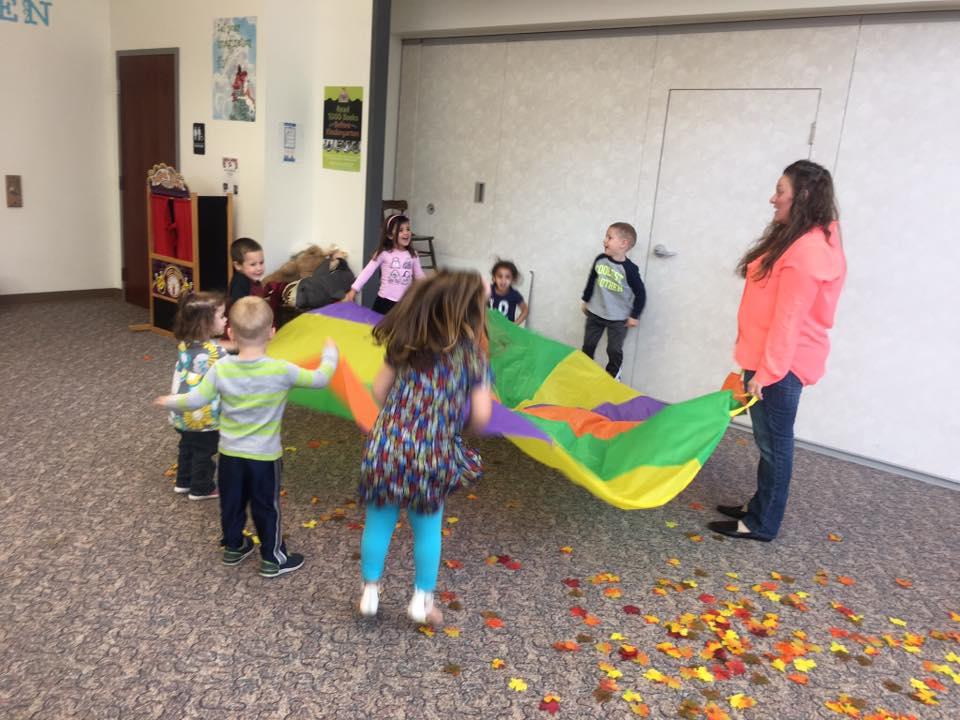 September 2017 Pinterest Night
We made dryer vent hose pumpkins on September 28th, just in time for fall!
August/September 2017 MGOL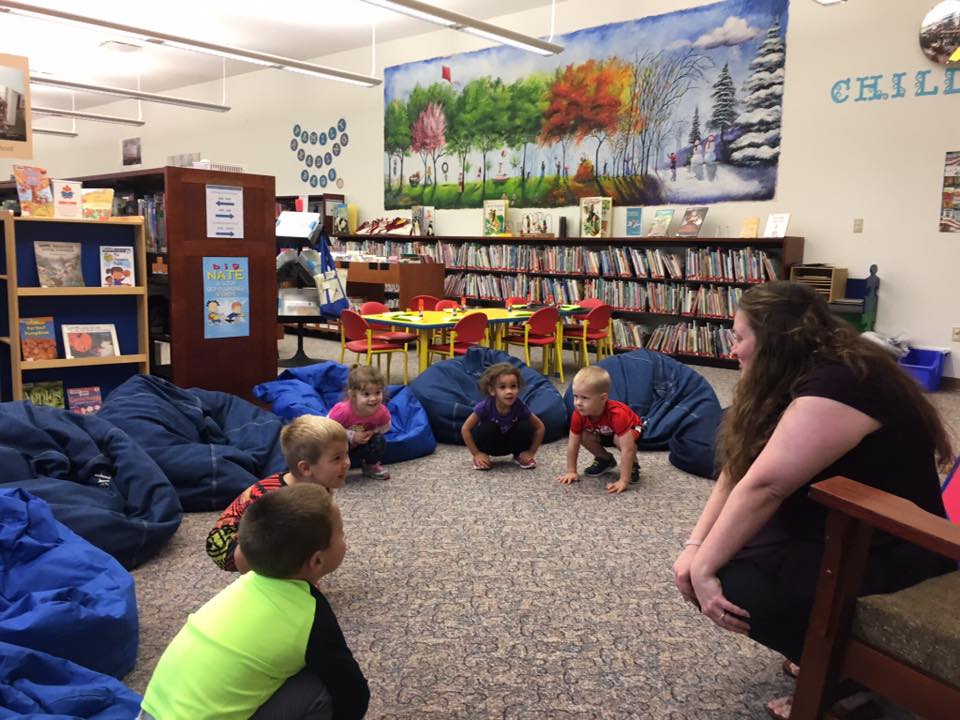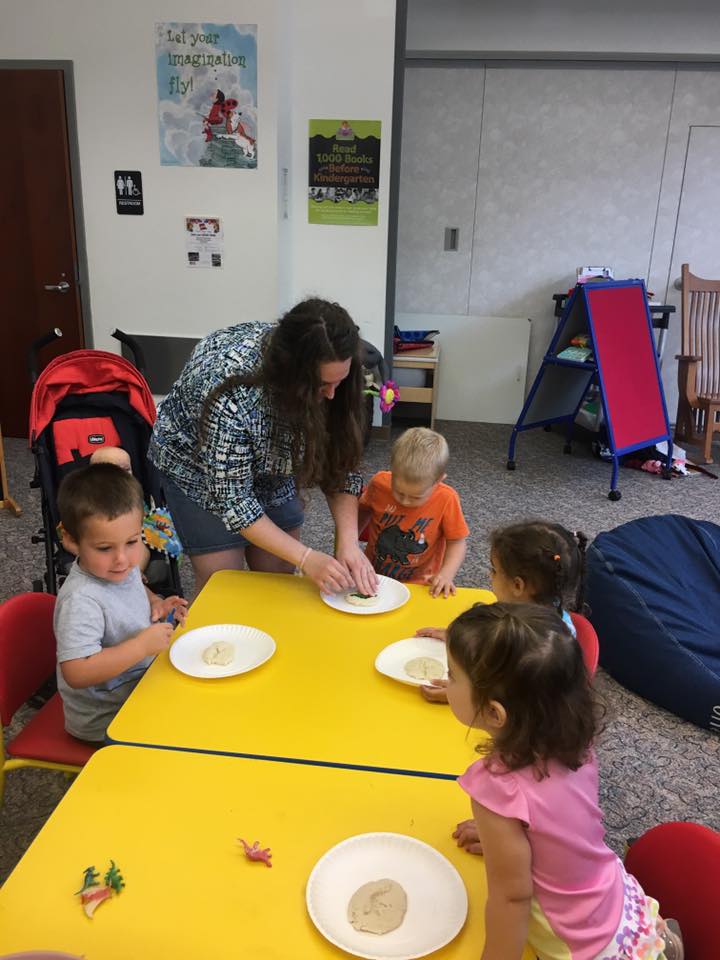 August 2017 Pinterest Night
We made no-sew aprons in August!
Pinterest Night: Recycled Bird Feeders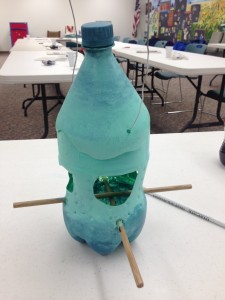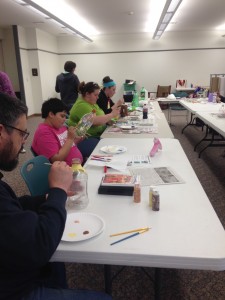 (March 29, 2016) Pinterest Night attendees made bird feeders, and bird houses, out of recycled 2 liter bottles. We hope the birdies enjoy!
Family Fun Night with the Libraries.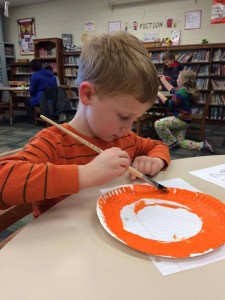 (February 17, 2017) St. Patrick's Day fun with the public library and the school library. This once a month program encourages families to read together.
Pinterest  Night: Clothespin Wreaths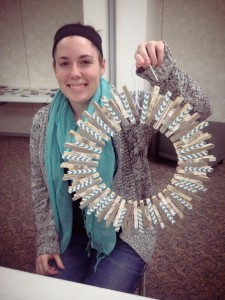 (February 23, 2016) Spring time is nearing, this month's project was a clothespin wreath. Thank you ladies for attending and for donating graciously to future pinterest nights.
Murder Mystery Dinner: An Annual Fundraiser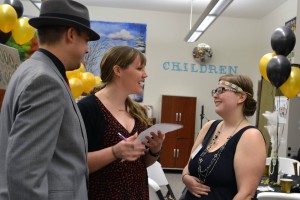 (February 19, 2016) The Otterbein Rotary Club hosted the second annual murder mystery dinner. The fundraiser event was also sponsored by Nipsco, Farmers and Merchants Bank, and Alliance Bank. A buffet dinner and silent auction accompanied the murder mystery game throughout the evening. Guests wore themed attire were, 1920's Gatsby, while trying to figure out which 'character' (other guests) committed the crime.  This year's event raised over $1,500 for the library's summer reading program.
LEGO Club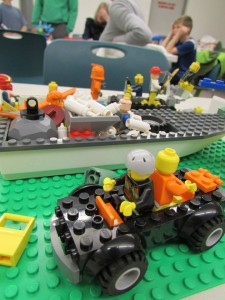 (Third Monday of each month) For ages 5+ at 4:00pm, no cost to attend. We supply the LEGOs and you supply the imagination. There is a theme for each month, however, children can free build if they decide to build their own creation. Their LEGO creation will go in to our display case for the rest of the week.
Family Fun Night with the Libraries 
(December 17, 2015) Each month the public and school libraries team up to bring a family friendly event to our community. It encourages families to read together and also incorporates crafts, games, and activities. Sign up is required, you can register your family with either Kristi at the school or Lauren, here at the library. There is no cost to attend. This program goes through the school year (no summer).
November Pinterest Night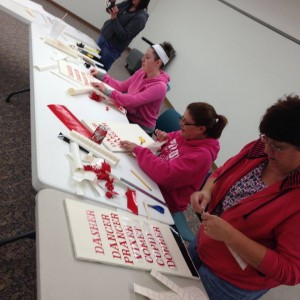 (November 24, 2015) This month we made reindeer name signs with cricut vinyl stickers and wood pallets. While the project took longer than expected, we greatly appreciate the ladies that stuck around to finish their signs. Donations are also encouraged to fund future pinterest nights.
Tail Waggin' Reading: A Halloween Event with TDI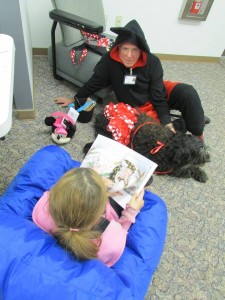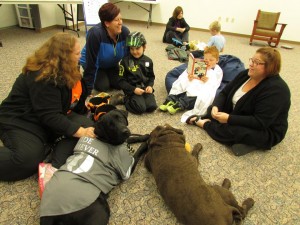 (October 29, 2015) Our second annual event was a hit. Therapy Dogs International, Lafayette Chapter, joined us for a Tail Waggin' Reading program. Snacks and games were provided while the kids took turns reading to the dogs and their friendly handlers. Dogs and participants dressed up in their Halloween costumes. Even our youngest book enthusiasts showed board books to the patient dogs. For two of the therapy dogs, this was their first 'site visit' as official therapy dogs! We are excited that they chose OPL to be the place to start. Looking forward to continuing our work with TDI in the future.
Prophetstown History & Wildlife Presentation 
(September 9, 20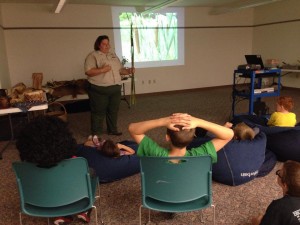 15) Angie Manuel returned to the library for a special presentation about Prophetstown History. From the geographical traits and natural wildlife, to how the natives utilized these multi-functional resources. The kids had a great time doing a mock dig, like archeologists do at the state Park, and exploring the table filled with pre & post contact Native utensils. The library looks forward to participating in the state park's 6th annual trail of scarecrows again this year. A big thank you to Angie for coming out to the library.
ALL-IN Block Party at the Otterbein Street Festival 
(August 1, 2015) The Block Party was a huge hit for the Otterbein community. Nearly 100 people participated in the ten different challenges set up at the street festival. Challenges included writing down an inspirational quote, testing your civic knowledge, declaring your Indiana-versary, and exploring another country's music with a traditional folk dancing demonstration by Ruth Black. Completed scorecards were turned in to the library table and names went in to the drawing for an Ipad Mini. Justice Johnson was the winner of the Ipad Mini. The Otterbein Public Library was one of seven organizations in the state of Indiana to host a block party this year. Lauren would like to thank Indiana Humanities for accepting her grant application and looks forward to bring more interactive programs like this to our community.
SRP 2015: Superhero workout and Fire Truck
Our last Wednesday Program was a combination event. Cindy Cox of Cindy Cox fitness and the Otterbein Fire Department did an awesome job getting the kids moving and talking about fire safety and health. To forshadow next year's summer reading theme (2016) of Health and Safety.
SRP 2015: Magic Don
Magic Shows have been a hit this summer. Don entertained the adults and the kids alike. From torturing the OUMC camp councilors to having the kids bust a light bulb in a bag with their superpowers! Super entertaining.
SRP 2015: Clint's Teen Survival Course
Starting fires, creating shelter, and catching food were all demonstrated at the park across the street from the library. For two hours teens and kids also practiced making snares and learning tricks for survival; like how Vaseline and cotton balls make the perfect fire starter.
SRP 2015: Animal Adaptations with IN DNR
Angie Manuel  from Indiana's State Park, Prophetstown, brought along some furry, scaly, and feathery friends. The kids loved the animal program.

June 10, 2015: Professor Steve came to the library to show us how we can all be like Superman with the help of science. From creating our own vortex, slowing down time, and levitation, the kids loved it. We look forward to our future Wednesday programs!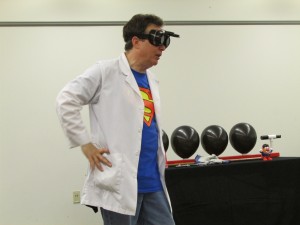 SRP 2015: Creating our superhero biographies and cuffs. 
June 5, 2015: Summer Reading programs are in full swing. The kids created their own superhero biographies, writing down their strengths and weaknesses. They decided on a name based off their special powers, ranging from "Ball Man," with magical baseball powers to "Destructive Diamond Girl," and her glittery cuffs. The cuffs were made out of decorated toilet paper tubes and lots of creativity. The kids are leaving their creations at the library until the entire outfit is complete. Next week will be masks and capes.
SRP 2015: Lafayette Symphony Orchestra Cushion Concert 
Summer Reading programs started June 1st. Every Wednesday is a special program in June and July. We started off with a performance from Melissa with the Lafayette Symphony Orchestra and her harp. She talked about how she plays, things to listen for, and the different parts of the harp. We look forward to continuing the Cushion Concert in 2016.
Fancy Nancy Tea Party
Our 2nd annual Mother's Day celebration was a hit. ON Friday May 8th, 30 people joined us (17 girls and 13 moms/grandmas) for an evening of snacks, crafts, and stories. We played Fancy Nancy BINGO, shared what we loved about moms, took pictures in the photo booth area, and decorated our own mugs to take home. The highlight of evening was listening to Otterbein's own Fancy Nancy (Nancy Lee) read about Mother's Day Brunch and Delectable Cupcakes and then we decorated sugar cookies. Lots of Fancy Nancy Books were checked out afterwards. We look forward to doing this again in 2016, Mother's Day week.
April Pinterest: Mother's Day Necklaces
We made photo pendants for Mother's Day or special occasions. It was a hit and we look forward to May's Pinterest Night: Cement planters. Pinterest is the last Thursday of each month.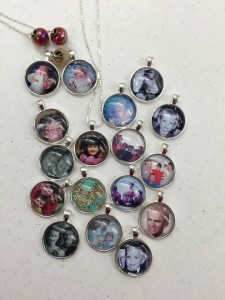 Laser Show at Otterbein Elementary 
The Otterbein Public Library hosted its annual spring program at the town's elementary school. This year it was an awesome light show performance with music and water vapor fog. We are excited to get the kids pumped for "Every Hero Has A Story," our summer reading program theme.
1,000 Books Before Kindergarten (1KB4K)
We are excited to announce that we are establishing a 1,000 books before kindergarten challenge. Parents of any age child is encouraged to track the number of books they read to their children before reaching kindergarten. It is easy to sign up, just come to the library and tell the person at the front desk. You will receive an information sheet and a 1oo book animal chart to start tracking your progress. You will be pleasantly surprised at how quickly that first sheet will be filled. Anyone can read to him/her, and reading a book multiple times counts as well as storytime. Turn in your sheet for a sticker and a fresh 100 book page, reach 1,000 and the child will receive a custom tote bag and an unparalleled sense of accomplishment. Have them ready to go to school!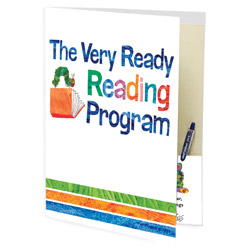 Mother Goose on the Loose StoryTime
Every Tuesday at 10:30am it is Mother Goose Storytime! Great for ages 0-3 years old. No registration required, just show up! It is a half hour nursery rhyme program that incorporates musical instruments, social skills, colored scarves, and of course books! An independent craft or activity will be set up in the children's area afterwards for parents and children to socialize and work on fine and gross motor skills. We are excited to see this program continue to blossom and include the 1,000 books before kindergarten challenge.
Mother-Son Date Knight
A dedicated time for mothers and sons to bond, the theme was a knightly affair. There were snacks, books, and a javelin toss. Calligraphy and era garb were available for kids to try on and the favorite part of the evening was the marshmallow catapults. We had over 22 boys with their moms participate in the program and we look forward to seeing them this summer for our reading program.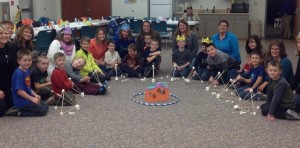 Pinterest Night
Our monthly craft night has been a continued success. For January we made Valentine's Day banners for the upcoming holiday. In February we made these lovely St. Patrick's Day Wreaths and March was twine eggs filled with Easter candy. It is the last Thursday of each month so be sure to get signed up, under the Events Calendar Tab.
---
Murder Mystery Dinner & Silent Auction
The library hosted it's first fundraiser and it was a huge success. Over 64 people purchased tickets and showed their support for the library's programming. The dinner was catered by the Nite Owl and the theme was a masquerade. 18 of the guests were participants in the murder mystery skit. They mingled with other guests giving details and spreading rumors about the other characters. It was a hit and we look forward to doing it again in February 2016.
Tail Waggin' Reading
Therapy Dogs International came to the library for a special Halloween event. Several handlers and their dogs were dressed in custom along with the participants. Kids took turns reading to the different dogs and rotating every couple of minutes. This program is designed to boost kids confidence in reading out loud and in groups, in a fun and relaxing atmosphere. We look forward to doing it again the last week of October 2015.
Other Previous Events:
Astronomy Night (with Purdue University's Astronomy Club), Krafty Kids Workshop (with the Ellis Family), Fancy Nancy Tea (a Mother's Day event), and of course Summer Reading Programs. 
---